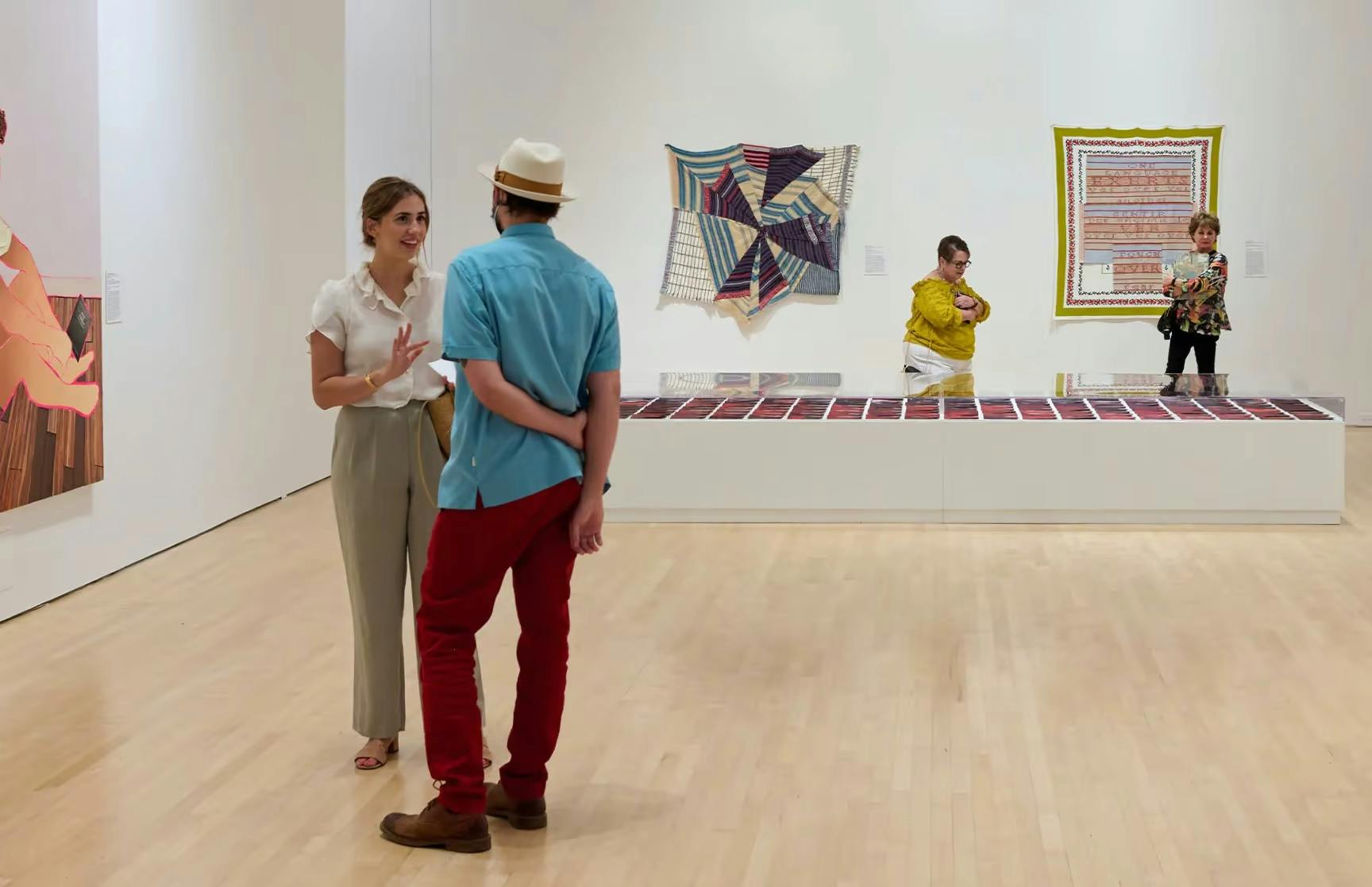 Elevating the digital presence of a Midwestern contemporary art pioneer
Kemper Museum of Contemporary Art
Services
UI / UX, Visual Design,
Front-End Development,
Back-End Development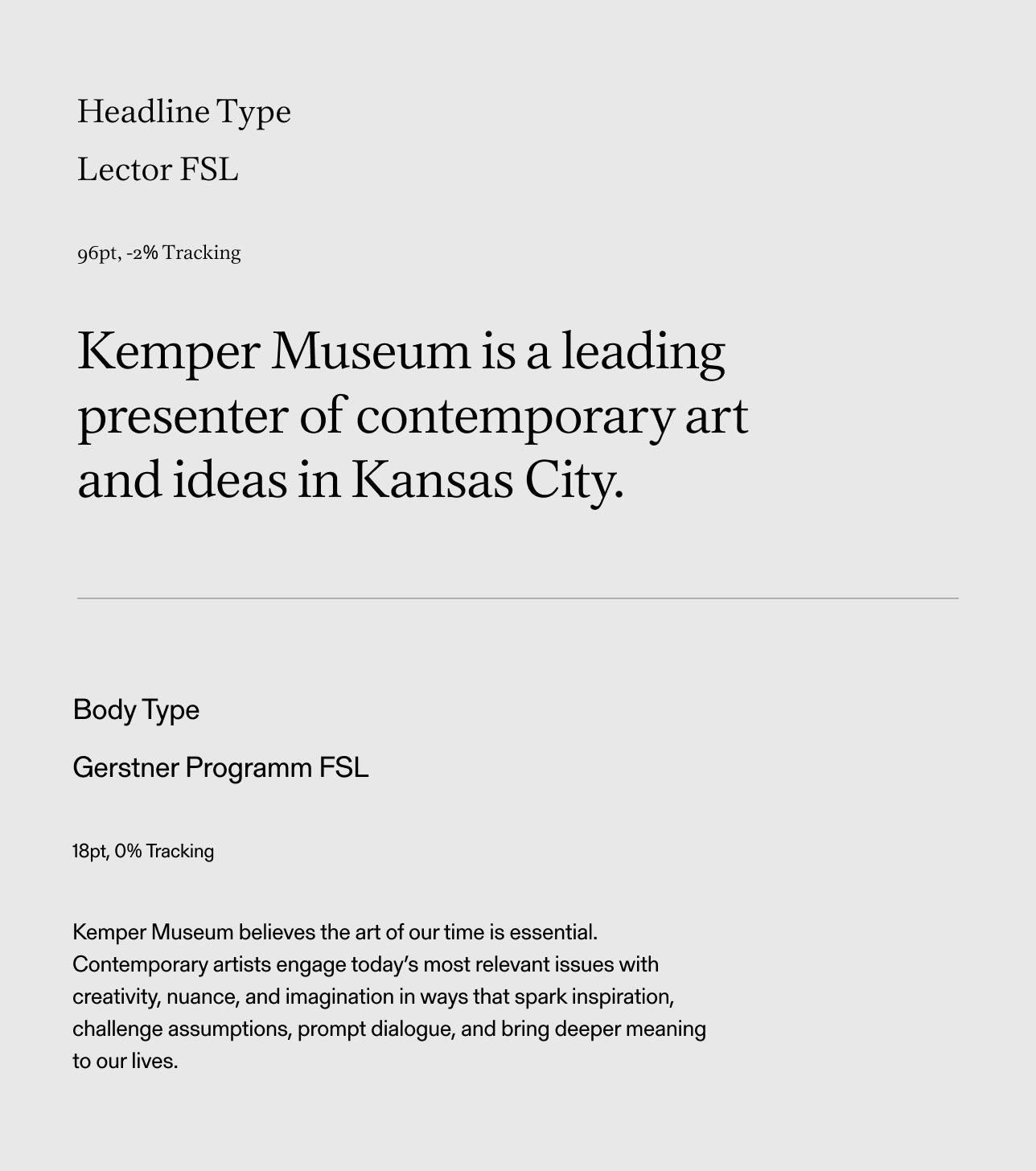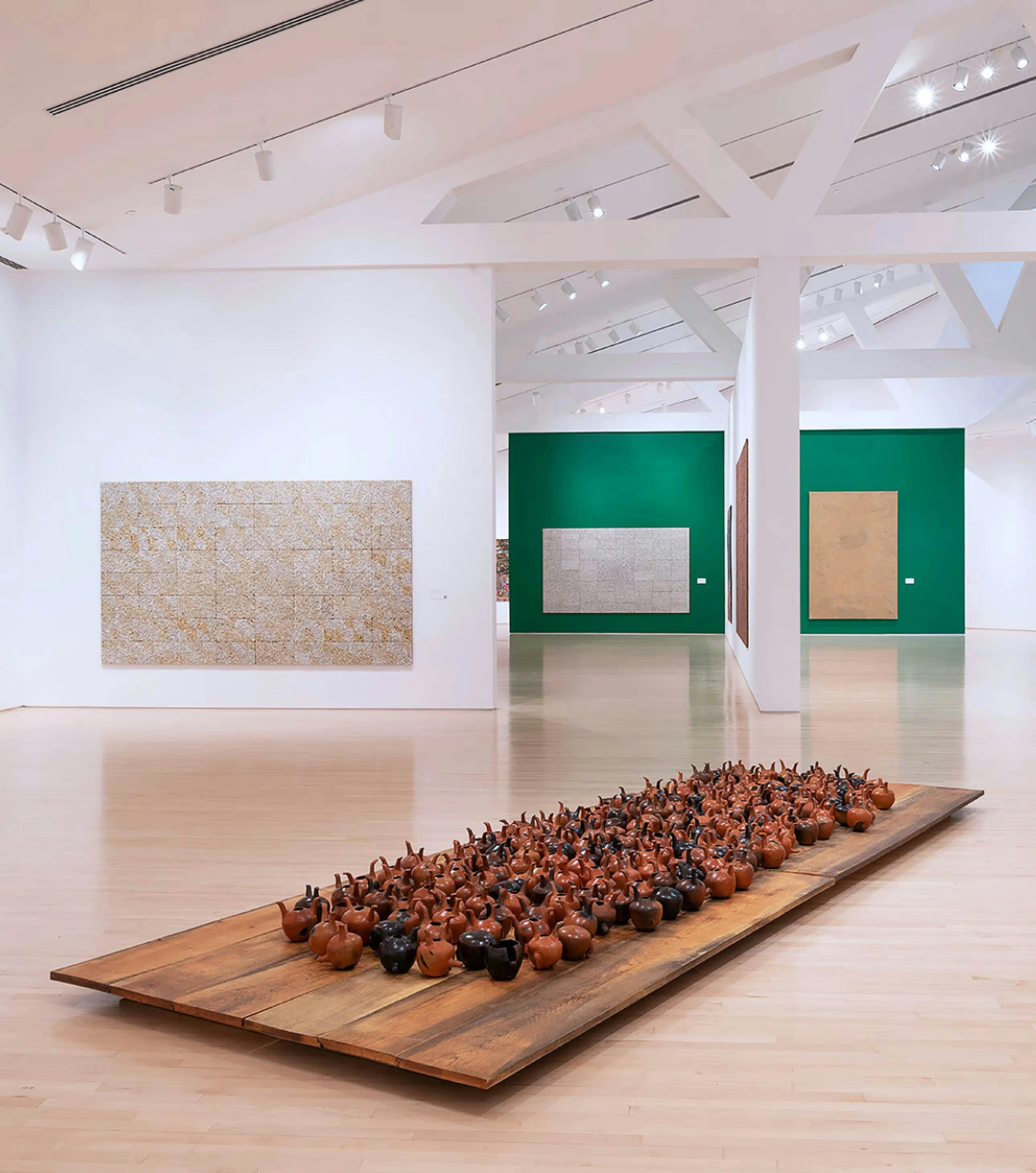 Introduction
Kemper Museum of Contemporary Art is a regional pioneer not only in curatorial approach, but also in its cultural POV on emerging art in the Midwest. Where many museums of a similar size focus broadly on the profile of exhibited artists, Kemper Museum focuses on regionally relevant and often historically excluded artists in order to deepen their reach and share individual perspectives.

Any given day, what's on view at Kemper Museum promises both delight and impact, and that's what Kansas City has to come to expect from Missouri's very first contemporary art museum. Kemper Museum has tremendous influence on its city, beyond art alone.

The museum's cultural, educational and family programming— coupled with its founding as an experience that is free and open to all—make it the perfect place to spend a day, no matter who you are or where you come from. A day which wouldn't be complete without a visit to its standout restaurant, Café Sebastienne.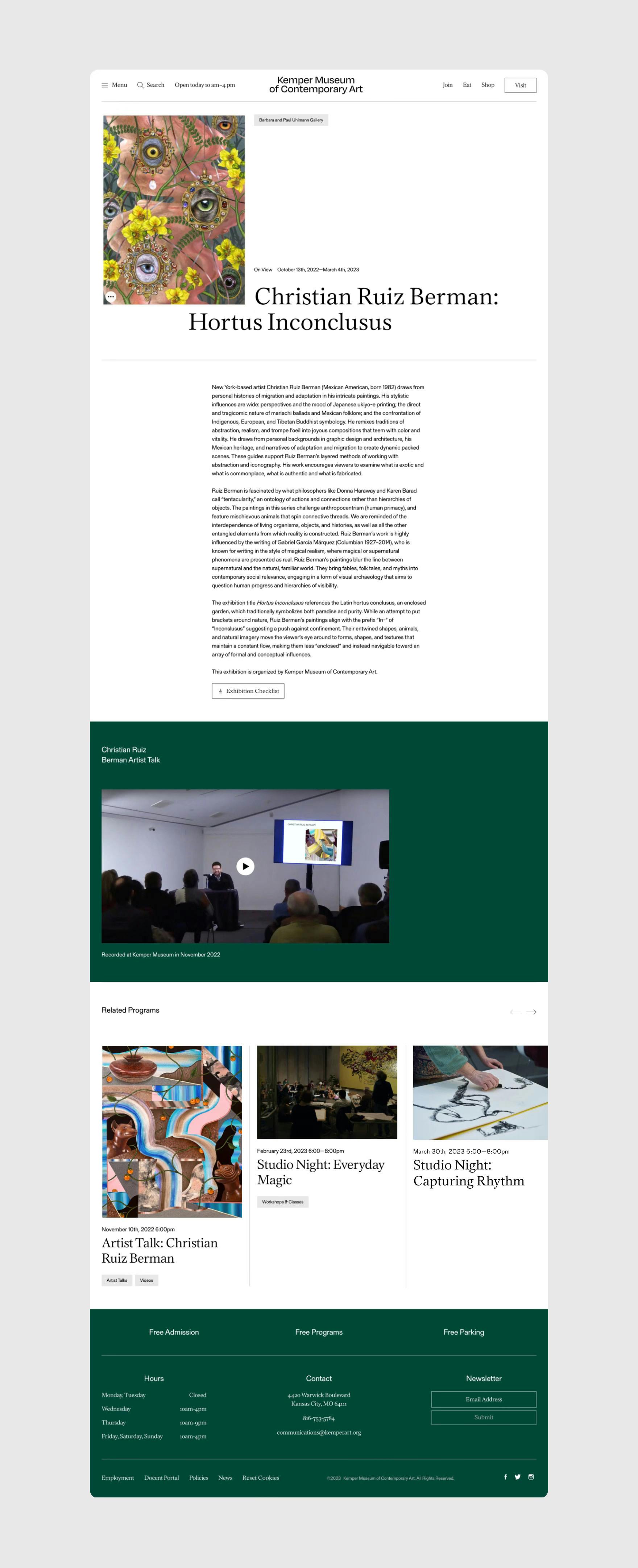 The Ask
Unpretentious but high-minded, noble but grounded, global but regional—everything about Kemper Museum immediately appealed to Use All Five. Fittingly, we received numerous requests from our team to join or contribute to the project.

From the Kemper Museum's end of things, there were a number of needs, wants and watchouts when it came to interpreting their brand identity in digital form. The museum's permanent collection—an exciting and eclectic medley of contemporary art—was currently a source of visitor consternation, as the site was missing the opportunity to help users intuitively plan their visit and get excited about what was currently on display.

As with most museum websites, we needed to balance KPIs around education, experience, giving and ticketing. In the case of Kemper, admission is free, but for certain exhibits and on specific days, users would benefit from reserving space. Those in the community who are sustaining forces needed to be clearly guided to a dedicated space for giving, and all visitors needed to leave the site more inspired, informed and aware than when they came.

We were also tasked with improving the connection between their restaurant and museum, easing the user journey to reservations and menu access from the homepage—and anywhere else on the website.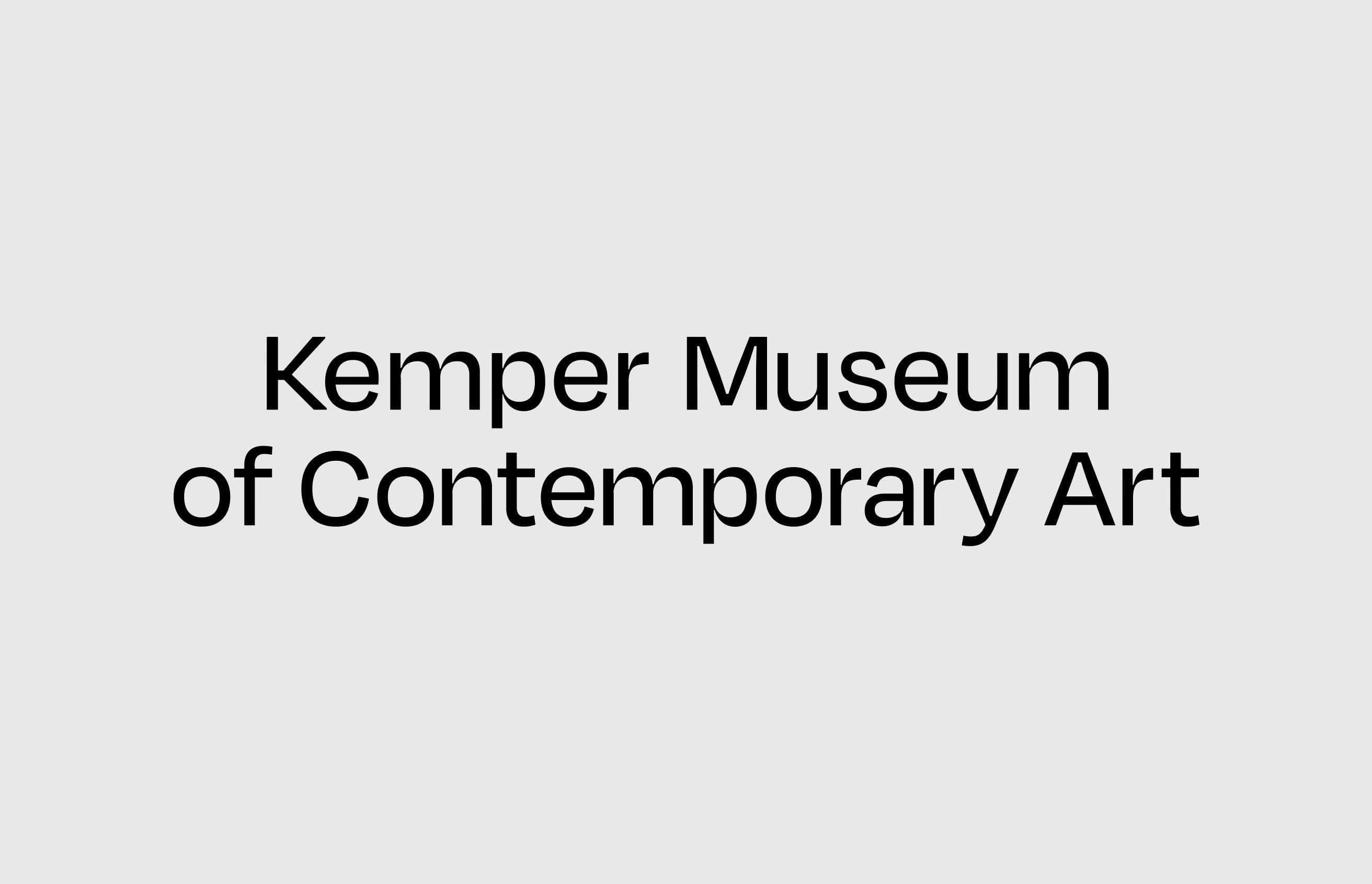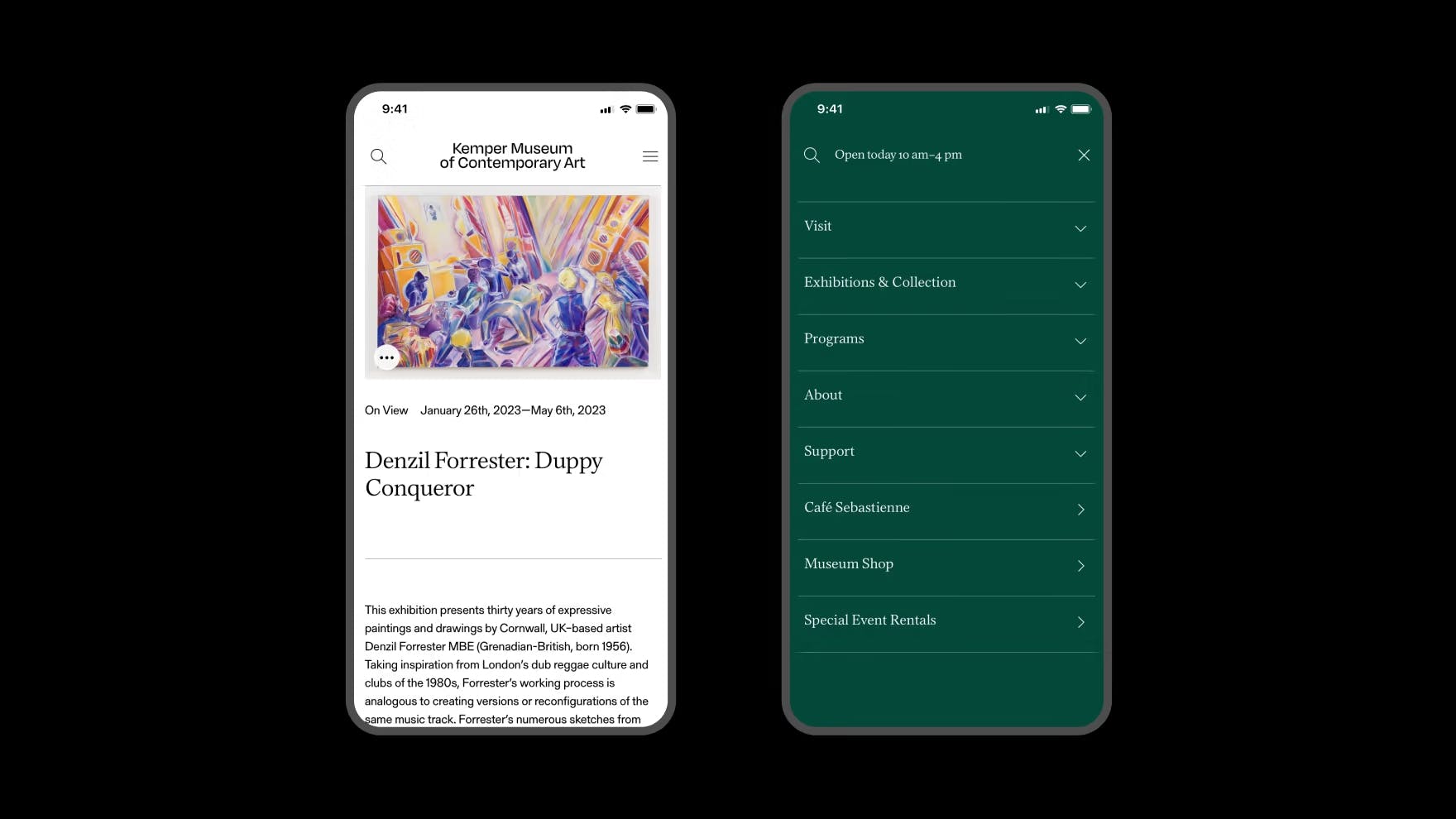 The Action
From day-one, we worked closely with our points of contact at Kemper Museum to immerse ourselves in the their history, nuances and vision. Stakeholder interviews gave us a clear vision of the landscape, blockers and key competitors, though as we know in the art world, competition is mostly friendly.

Kemper Museum had recently refreshed their brand identity, and we were excited to see that it provided endless opportunity when it came to designing and developing their new website. The natural letter forms had an architectural quality that became the inspiration for many of our key art direction and tech features.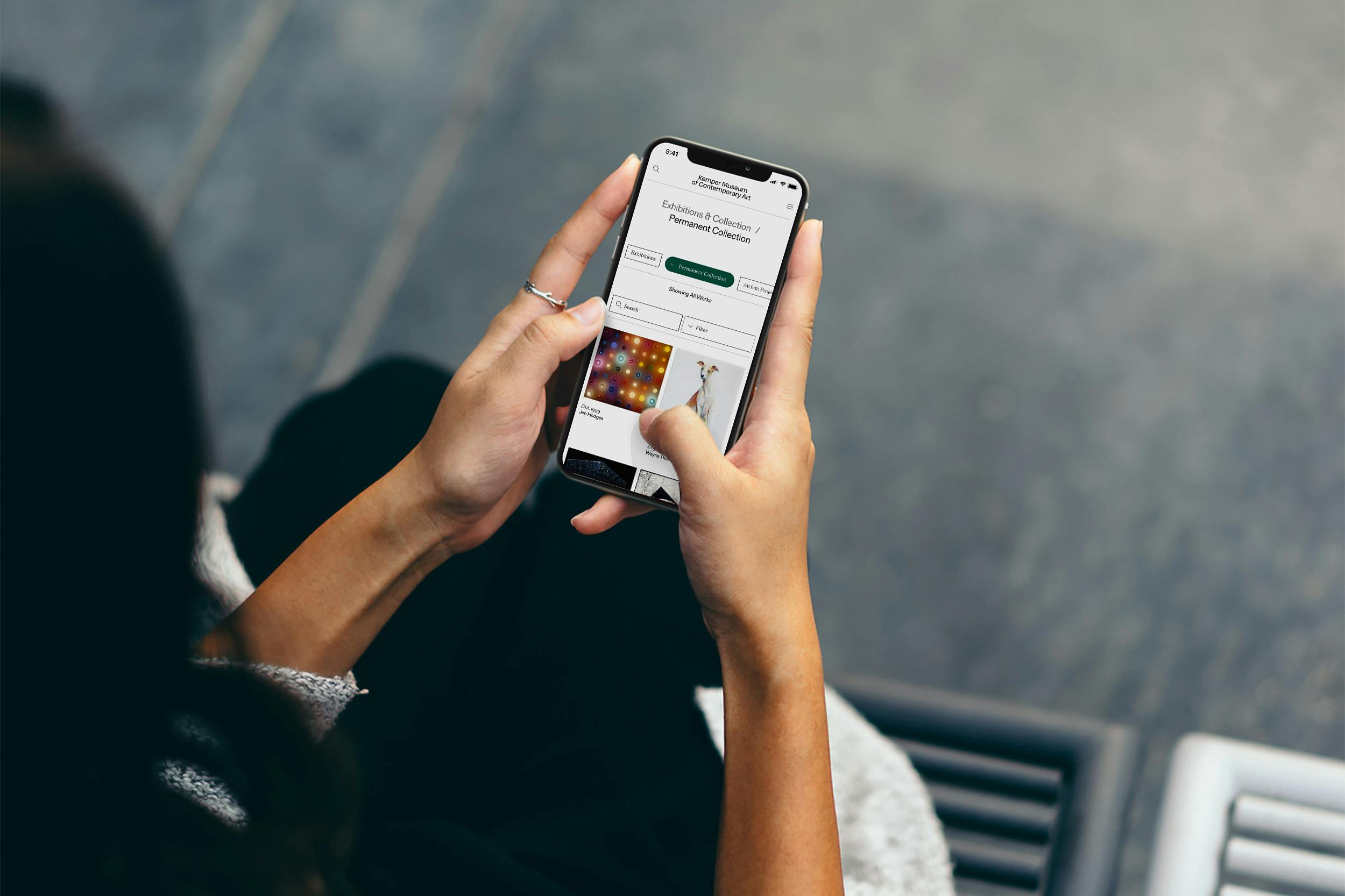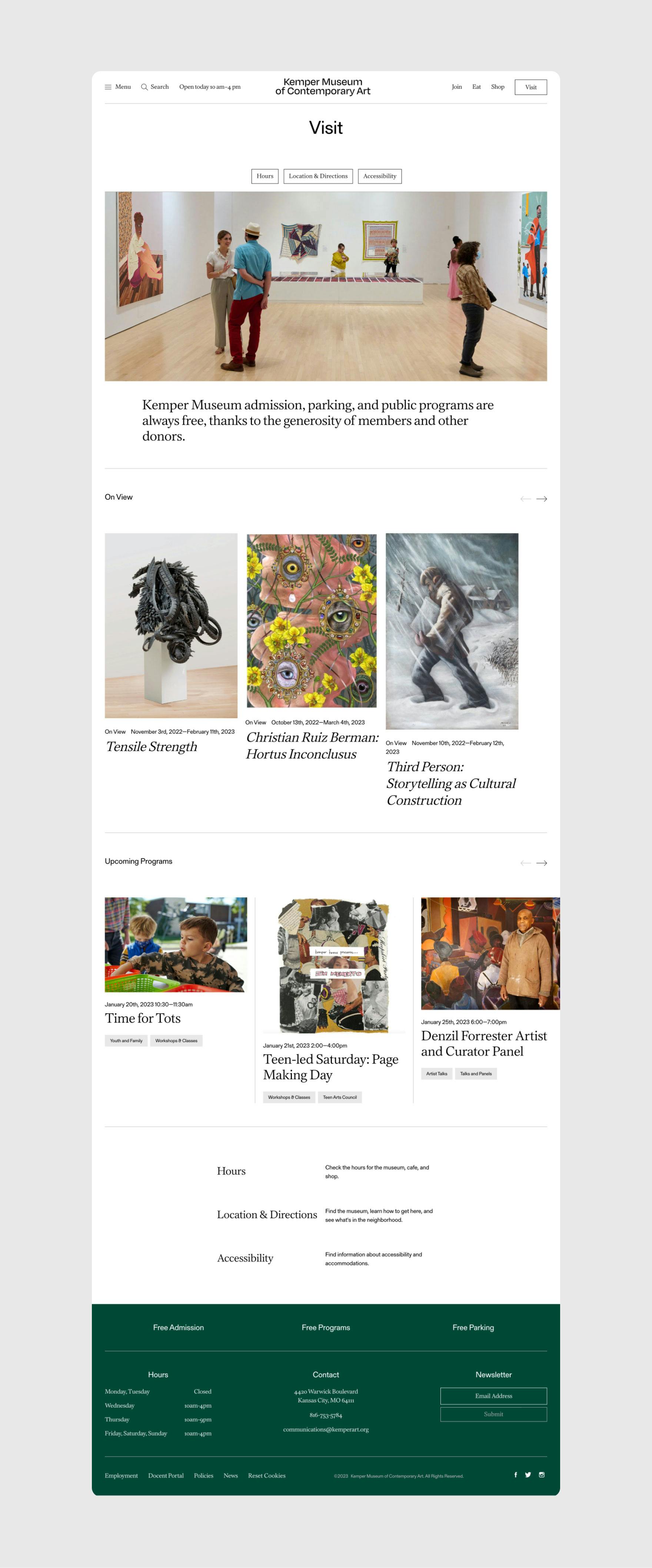 We set sail on visual design for Kemper Museum knowing that we had found a true partner, and because of their team's adventurous spirit, we were able to explore endless avenues and means of expressing this important institution and brand. From a variety of color palettes that evoked the great plains, to video, image, and layout approaches that used the angular KM letterforms as masks, our design rounds exalted the Kemper Museum's brand, story and role in the community. We're very proud of where it ended up.

After extensive work ensuring that each page of this deep site was uniquely positioned to handle the required content, we migrated Kemper Museum to a new, headless CMS, and began to stage and develop the site. In development, intense effort went towards ensuring the integrity of the art direction was borne out in code, which is always vital, but possibly moreso when your client's subject matter is meaningfully tied to aesthetics.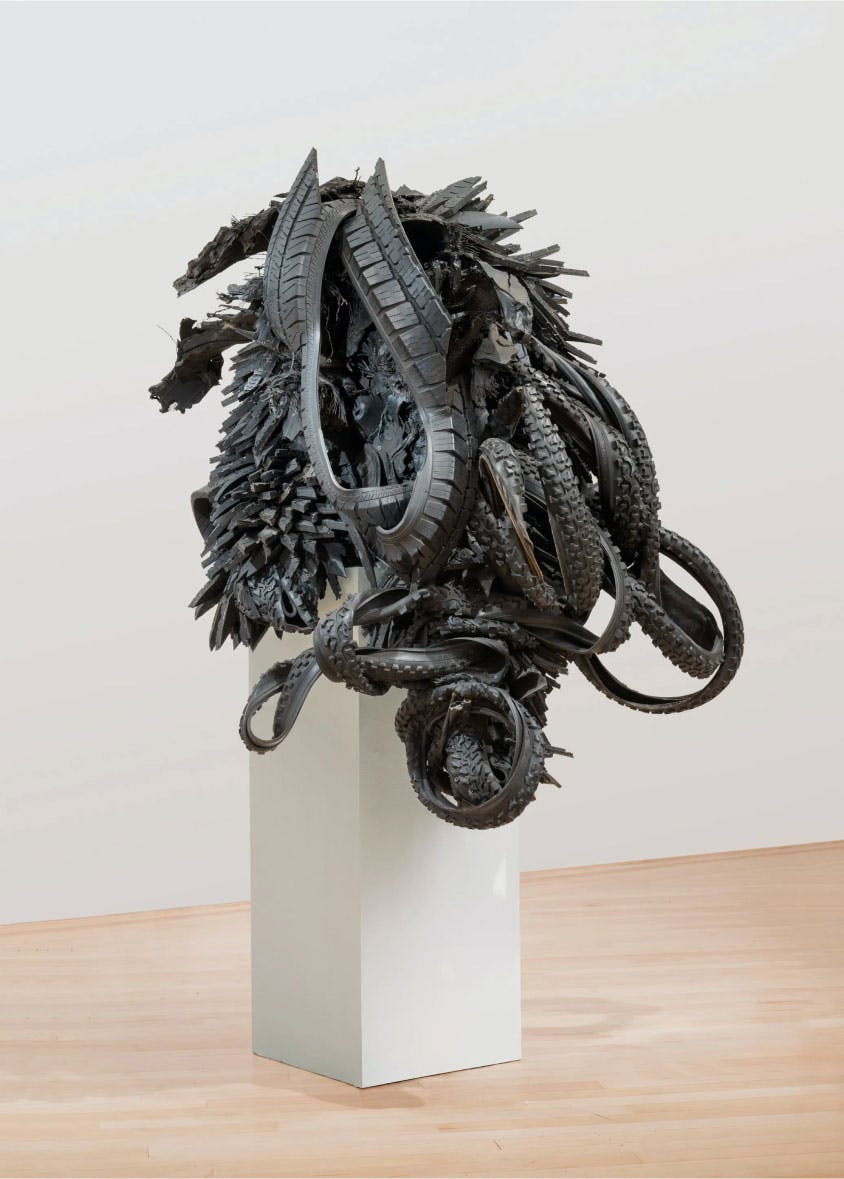 The Result
A website that's close to pixel perfect was the goal, and that's what we pushed towards. Visiting kemperart.org now, we hope that users can feel our desire to leave them with something impactful, honest and expansive like the skies of the great plains—something that gives the art room to breath, but still feels present and exciting.

We were also driven to create something usable and informative, welcoming in audiences that often feel gate-kept by the institutional art world. Today, Kemper Museum has a site that lets all audiences know that admission is always free, the art is always thoughtful, and the museum itself is, above all else, a reflection of its city and its people.

We believe that the new Kemper Museum of Contemporary Art website makes a resounding statement, and we hope that others feel as strongly as we do that it is a fitting, living embodiment of the museum's vision and meaning to Kansas City. Like our clients at Kemper Museum, we believe that art and community have curative and connective powers that have to be felt to be understood. And when your museum is free and open to all, connection is exponentially more possible.