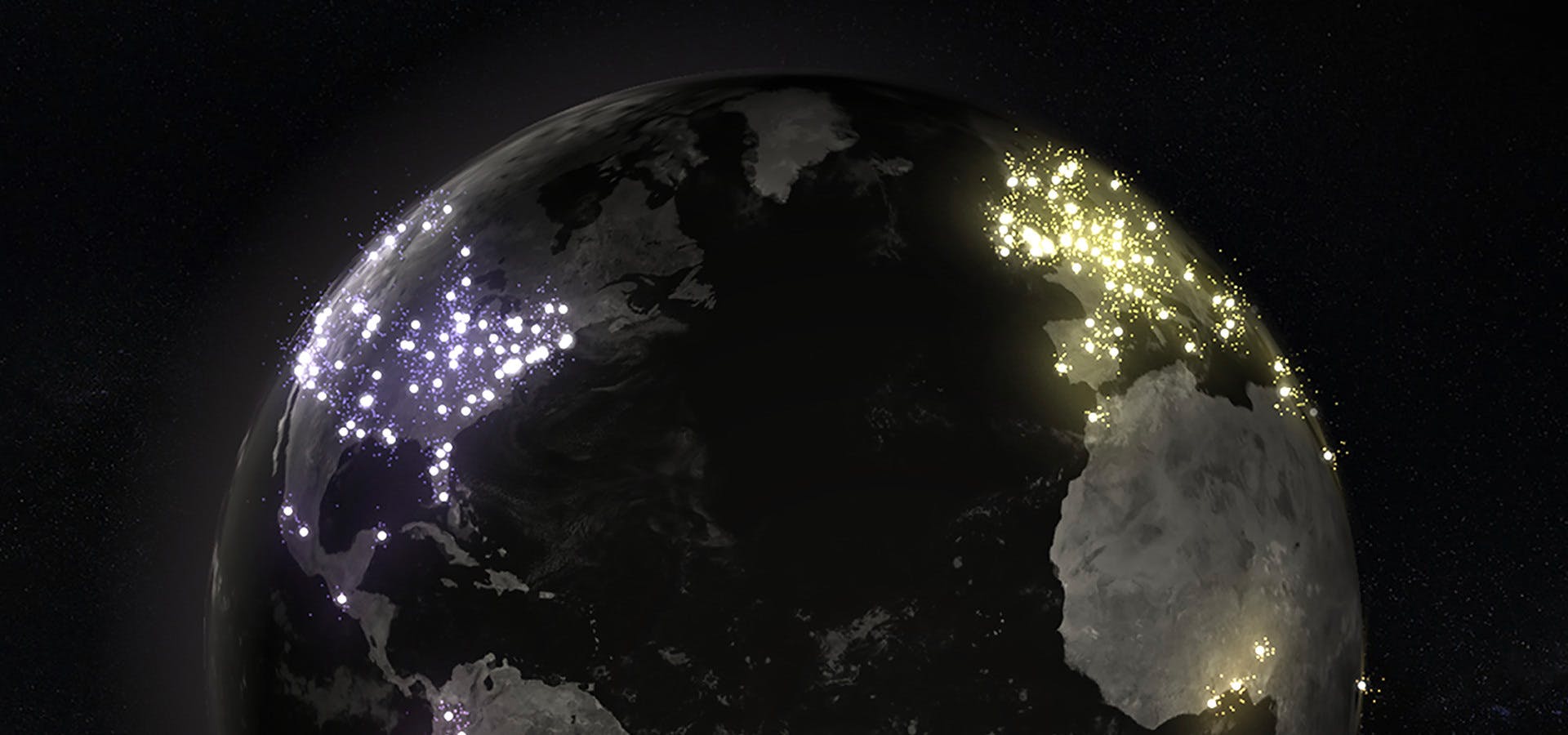 Building an environment that enabled radical visibility and empowerment for the #MeToo Movement
Introduction
#MeToo rocketed from obscurity to global awareness overnight, and since Google is the keeper of the world's information, they had a responsibility to facilitate something deeper than search. We rapidly prototyped and released an intuitive online dashboard that helped people share and stay aware of a movement that would change the course of history.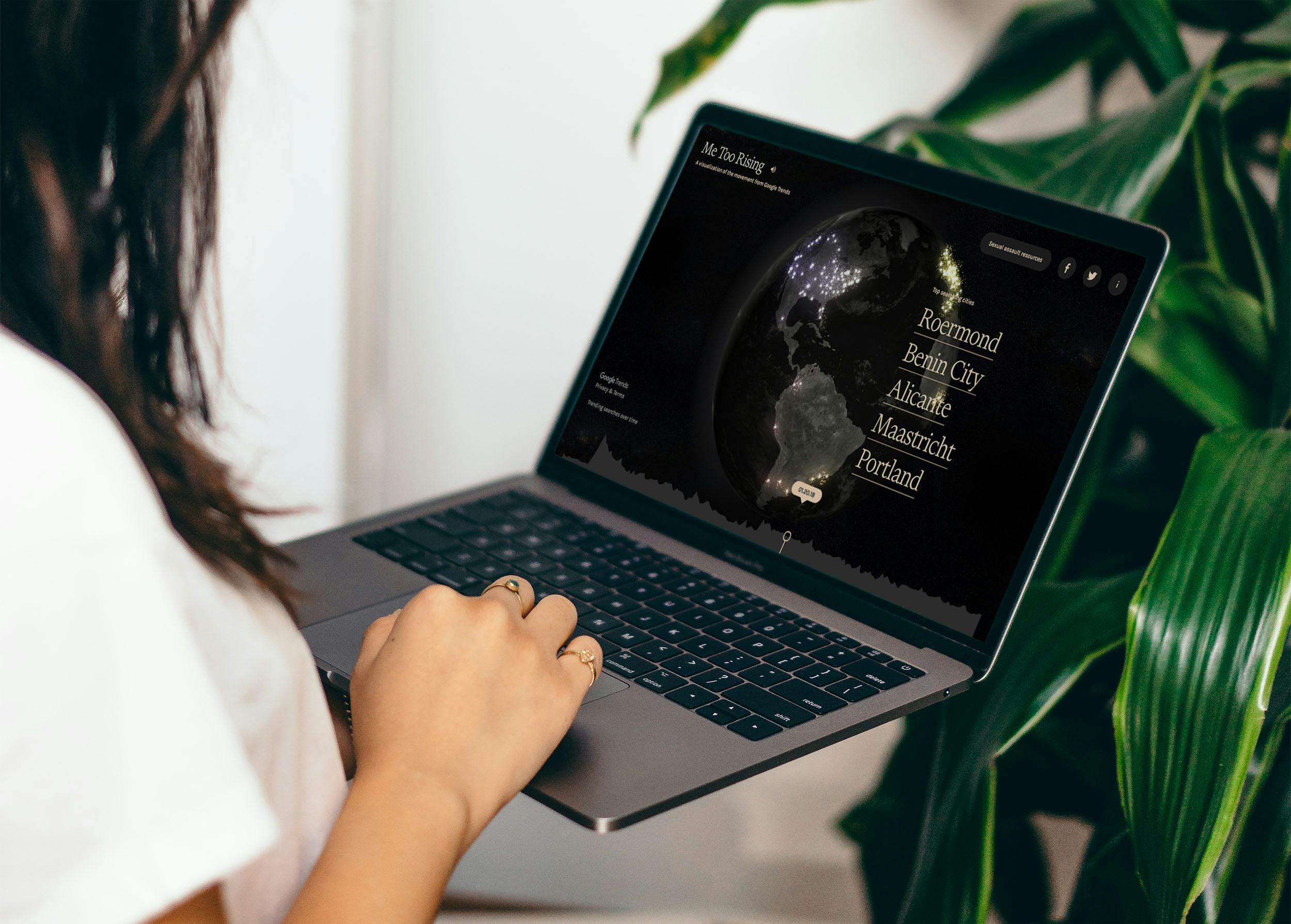 The Ask
After the New York Times' exposé on Harvey Weinstein's sexual assault charges, Google Trends was confronted with the critical task of making the #MeToo movement visible and accessible to women and men across the world. 
In order to shed light on this story, they asked us to create an interactive map of the world that continually aggregated searches and news coverage on the #MeToo movement, beginning on October 1, 2017. We then devised a filtering and interactive display so that users could engage with and sort the information as it came in.
When Google reached out to us, they had a concept that they felt they had a duty to bring to life. Sexual Assault Awareness Month was on the horizon, and the #MeToo movement was growing; the media was releasing new testimonials of sexual assault on a daily basis. Google believed it was vital to create a physical website that people could consult to track the developments, be inspired to speak up and fight sexual assault on a global level.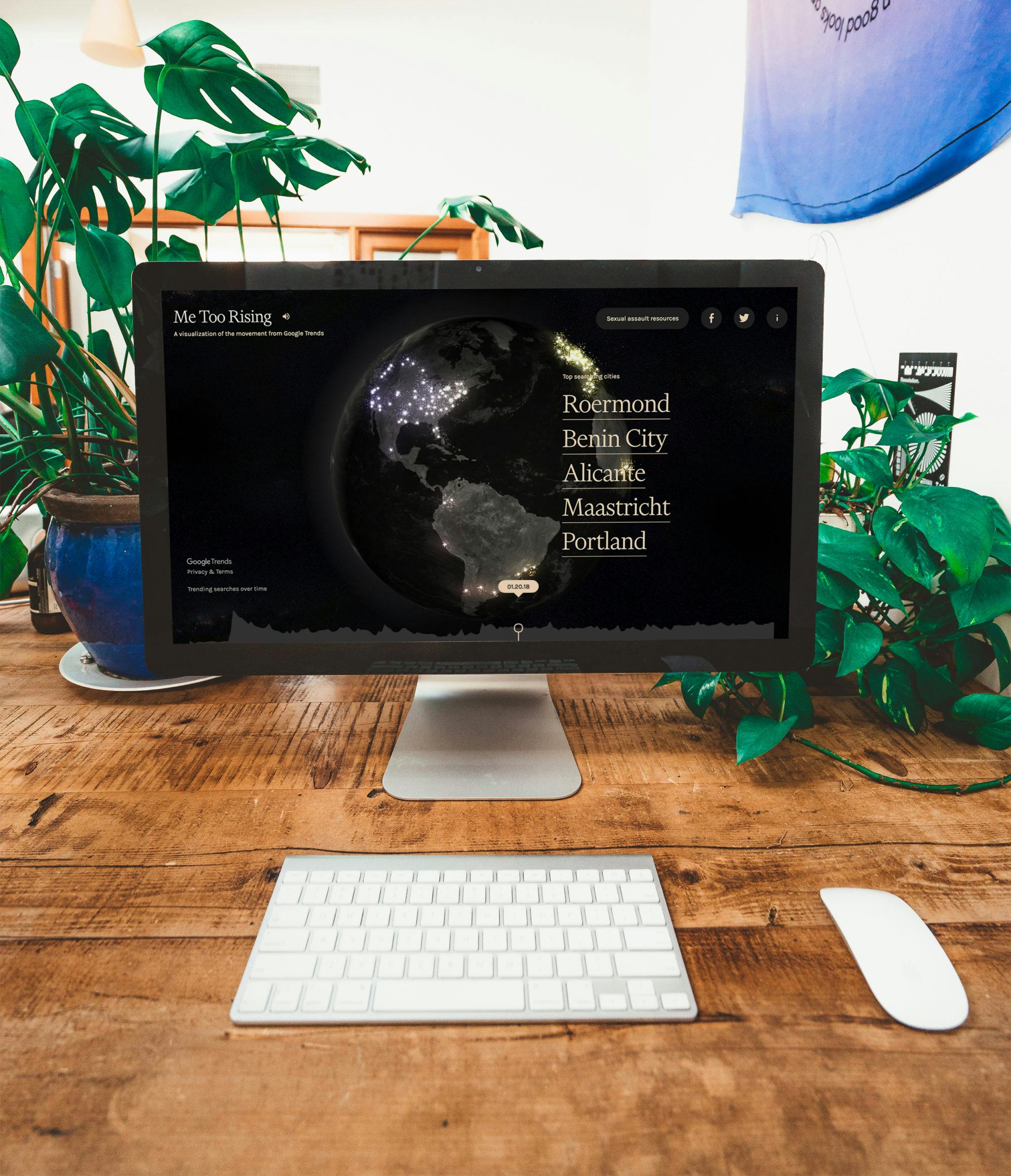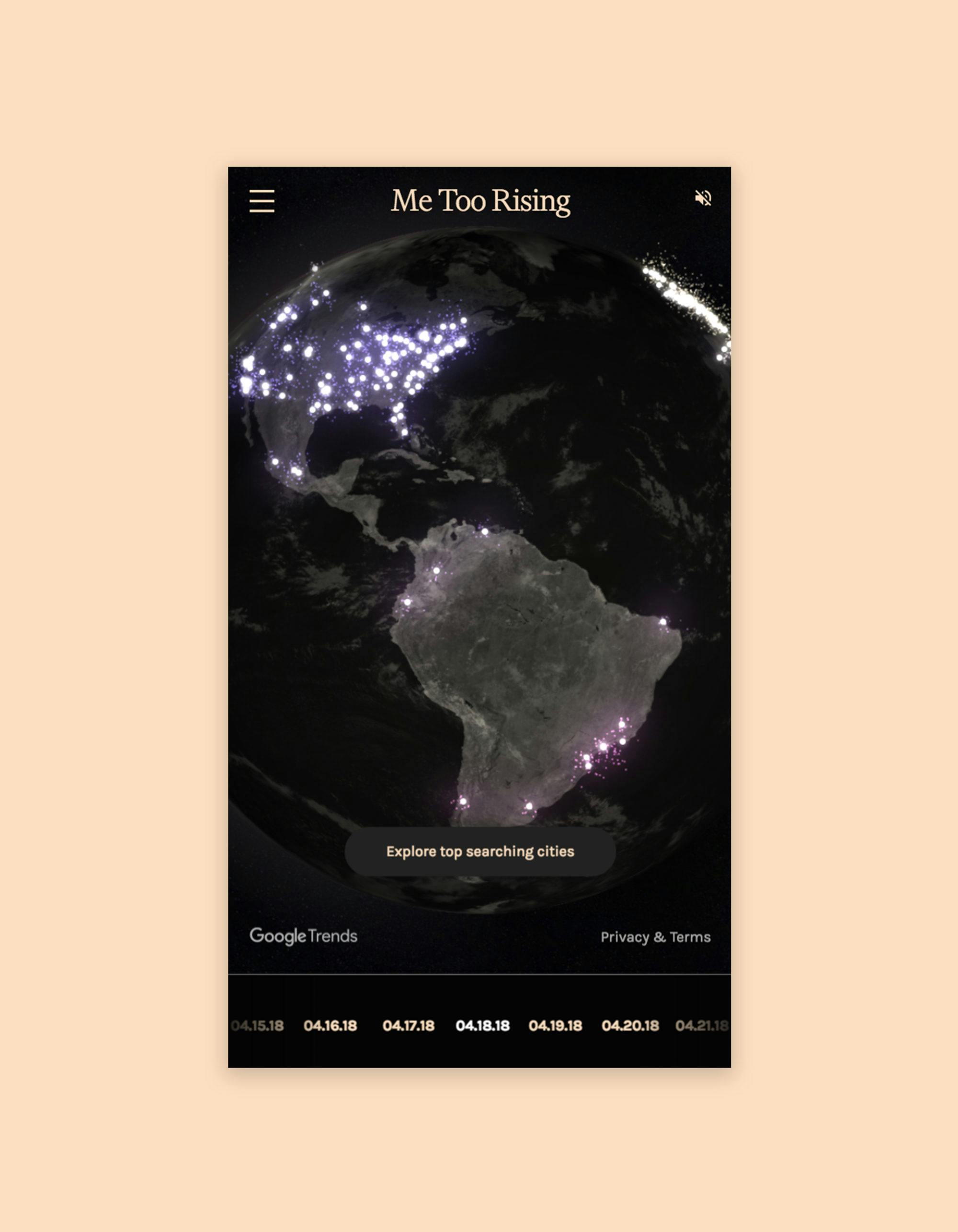 The Action
Using WebGL and 3.JS, we created an interactive globe that visualized coverage of the movement in 195 countries—that is, all the countries in the world. We populated a global trend heatmap to illuminate where people were searching for "Me Too" the most. Users selected a date by moving their cursors along a horizontal axis that spanned from October 1, 2017 to the present day. By clicking on a location, users could immediately peruse the top trending story in that city, linking information and seeing awareness build in real time.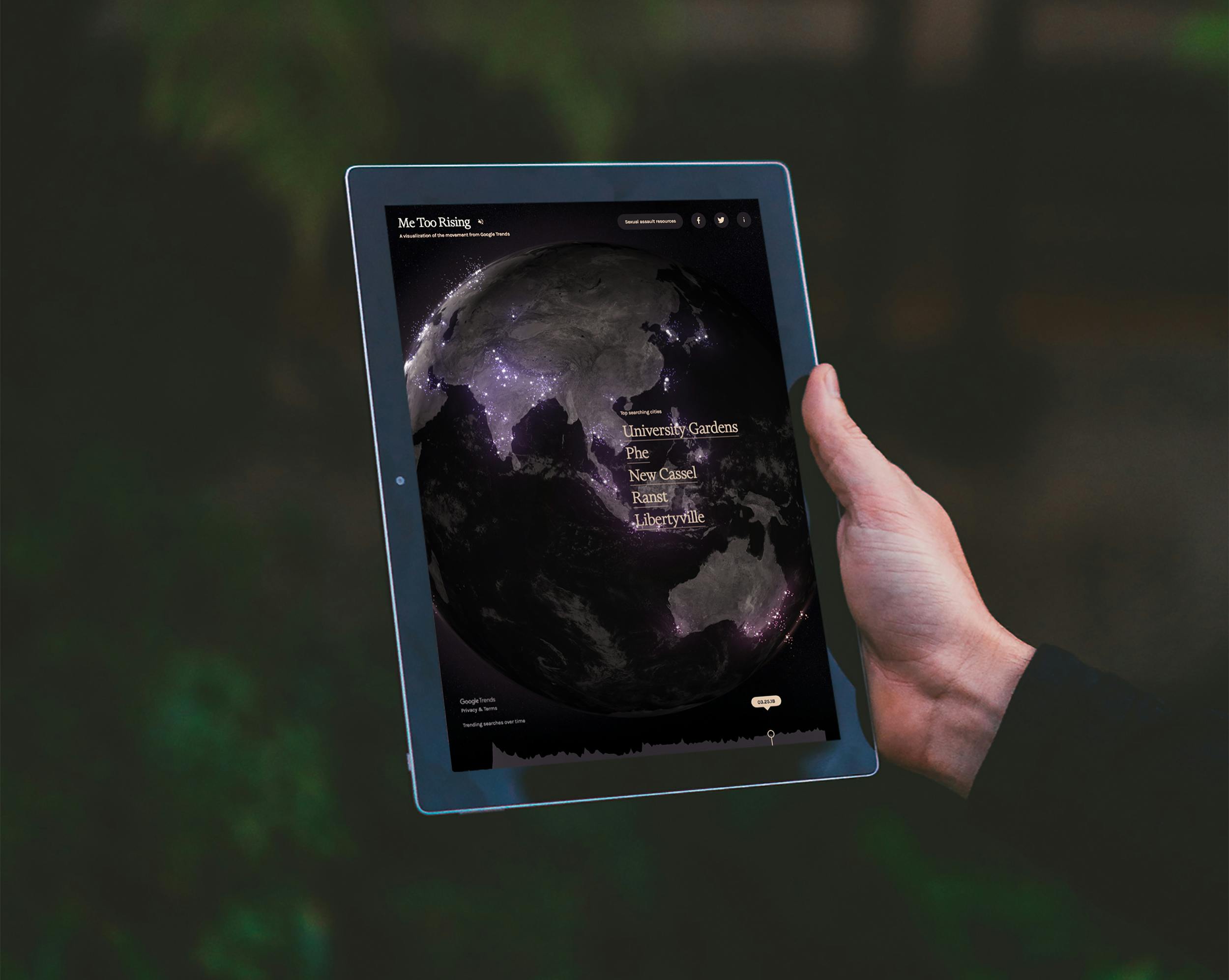 The Result
MeToo Rising became a phenomenon, with a seemingly endless cadre of celebrities sharing and contributing their voice to the platform.
MeToo Rising led to a trending hashtag: #MeTooRising, which helped people around the world mobilize to fight sexual assault, report it, and stay informed instances locally and internationally. 
In addition to receiving bountiful media coverage on outlets like Marie Claire, Refinery29 and Stylist — to name a few — MeToo Rising effectively connected people around the world and gave them the tools to get the answers they sought and deserved.