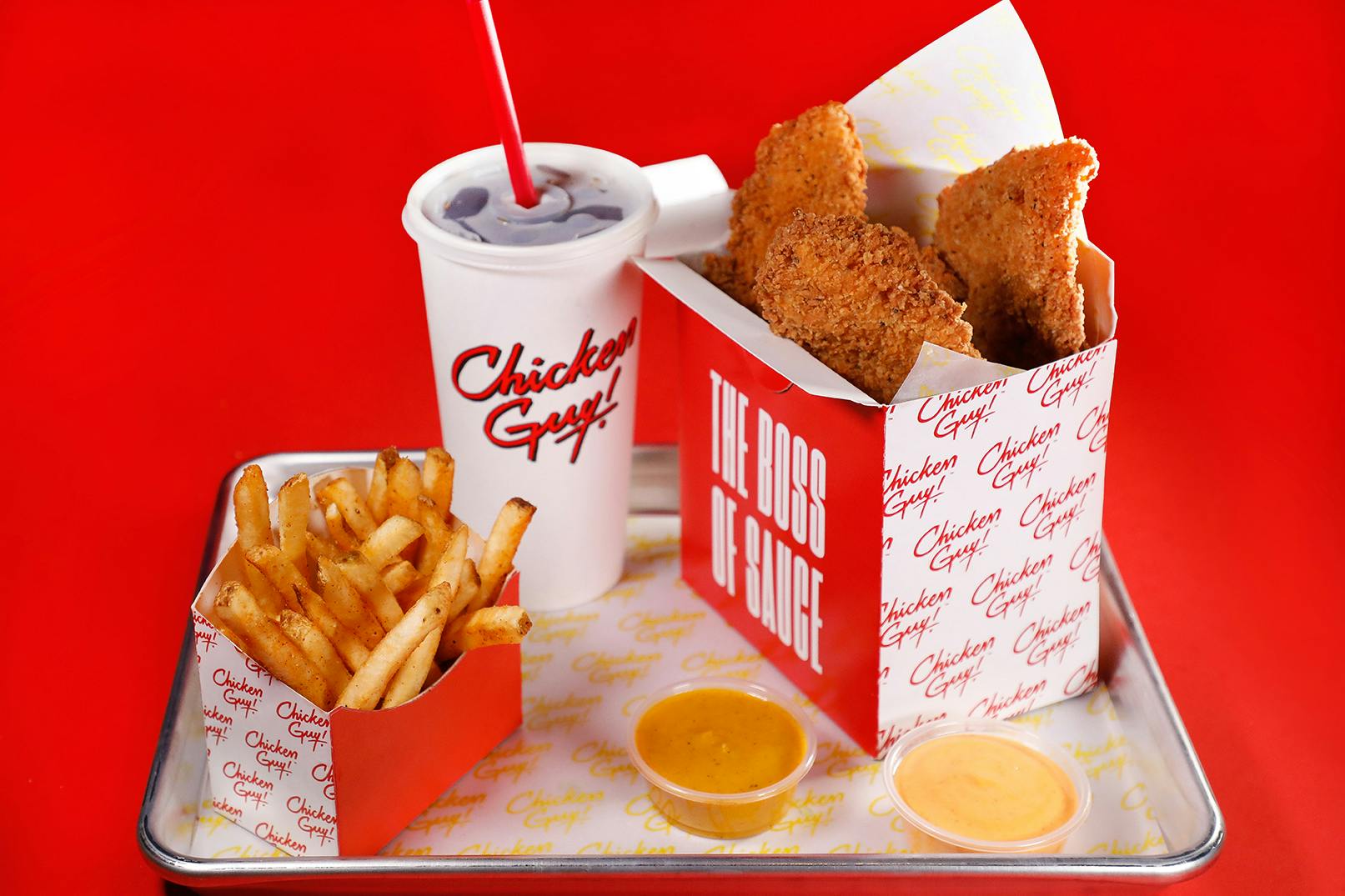 Services
Brand Strategy & Identity,
Naming,
Art Direction,
Illustration

Introduction
Imagined by celebrity chef, Guy Fieri, and restaurateur, Robert Earl, the Chicken Guy! is a quick and casual restaurant serving up delicious chicken tenders accompanied by distinct and flavorful sauces. Use All Five led the process from brand strategy, naming, to identity design and illustration.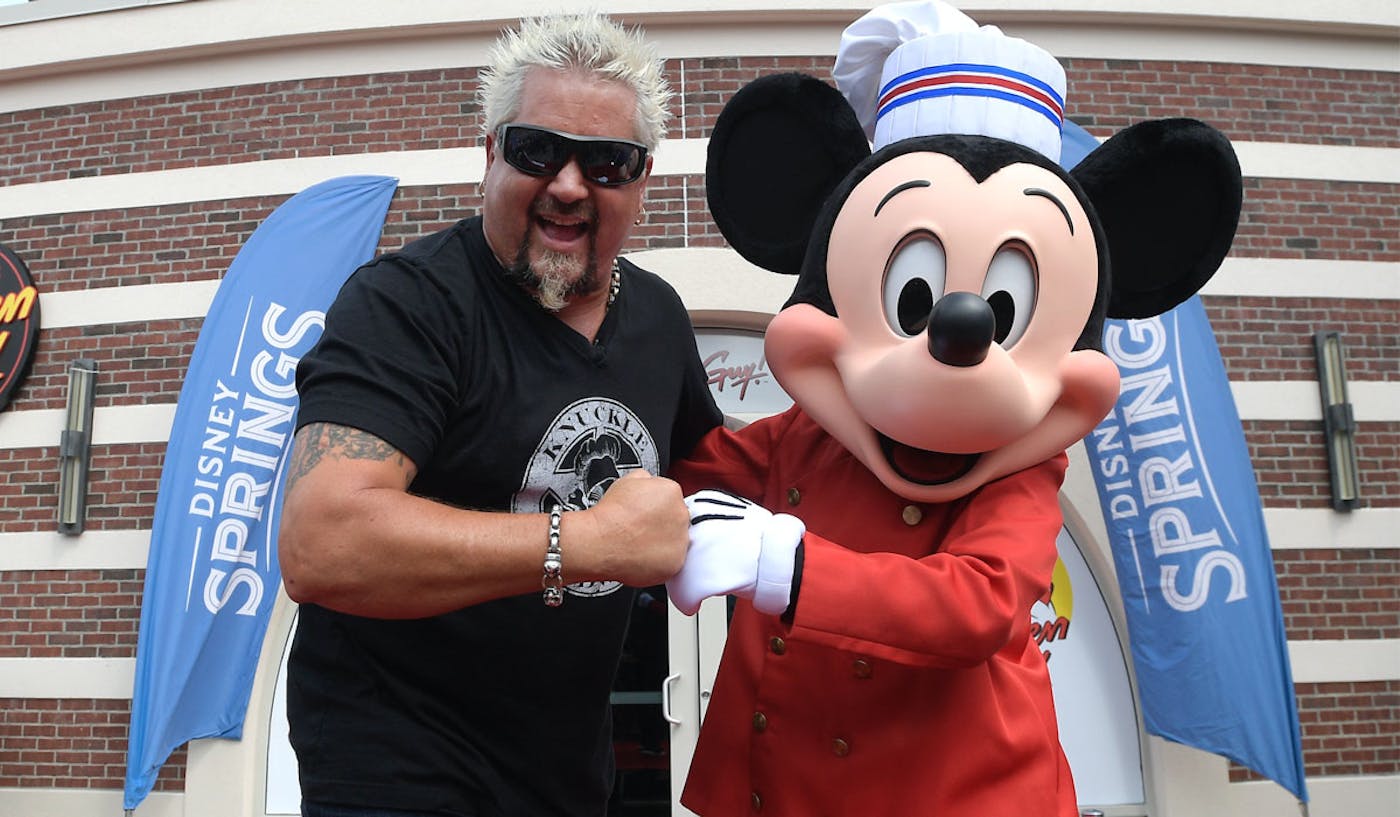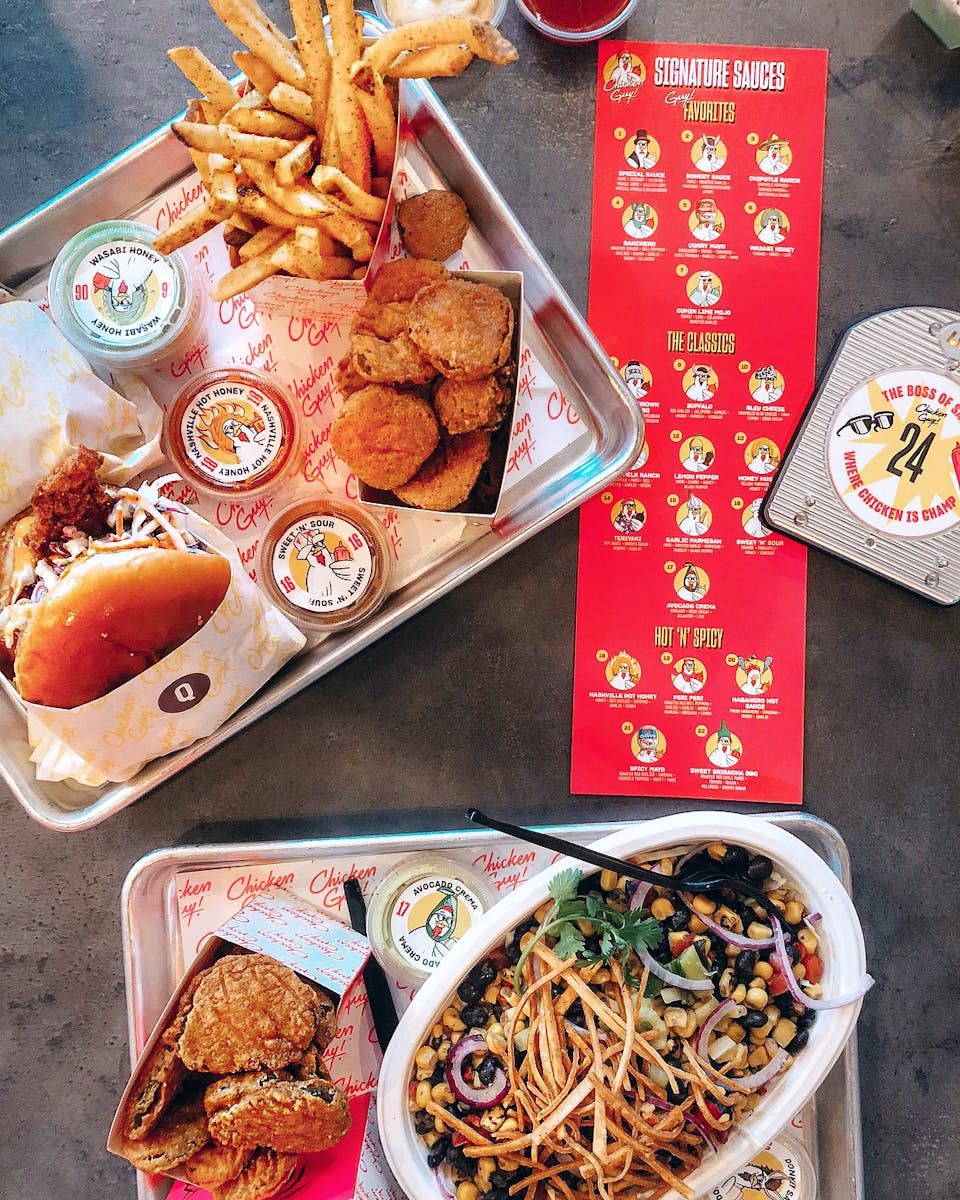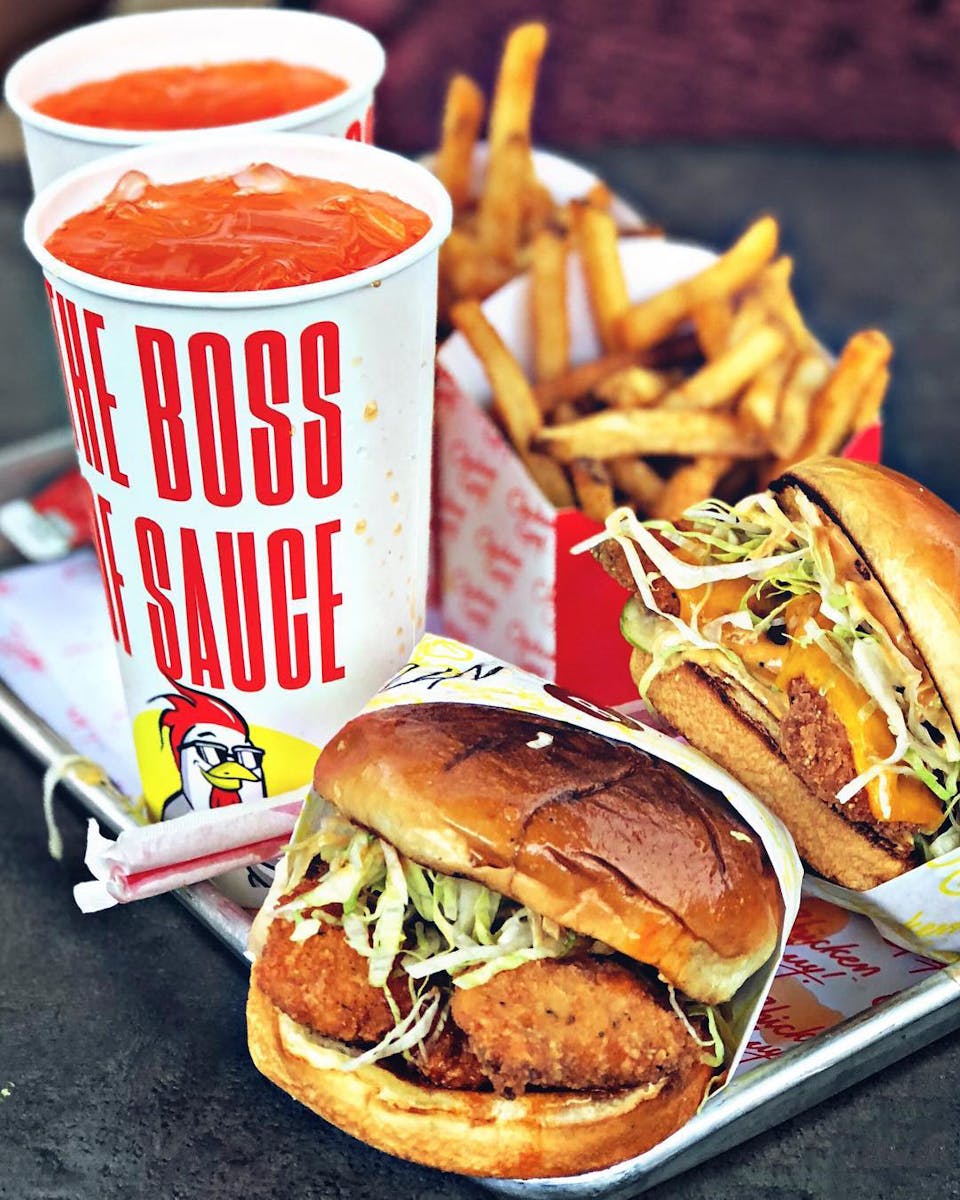 The Ask
How do you take Guy Fieri's aesthetic and evolve it into a fast-casual restaurant identity that celebrates homespun classics with a healthy dose of flavor? Guy and Robert Earl (of Planet Hollywood and Buca di Beppo fame) came to Use All Five with a brand new vision for the latest of Guy's concept restaurants. We collaborated directly and closely with each of their teams to lead all elements from brand strategy and naming to identity design and illustration. We also created the distinct logo and illustrated mascots that took The Chicken Guy! from idea to reality.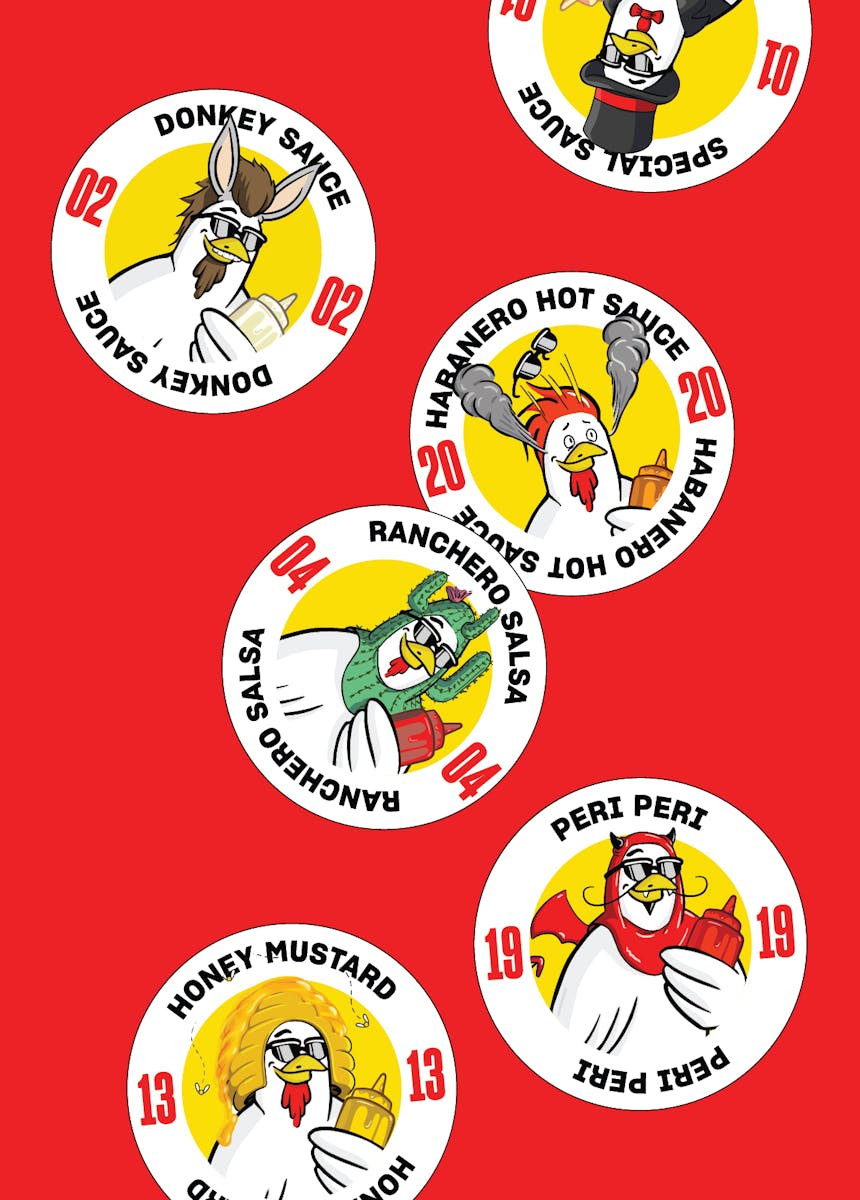 The Action
To reference the nostalgia of classic fast food colors we stuck to primary colors, then conceptualized an anthropomorphized chicken with sun shades and a slick hair-do. In addition, we balanced that with a custom logotype adapted from Guy Fieri's signature. The brand is fun, wholeheartedly embracing the ethos of FLAVORTOWN.
Running with Chicken Guy's! emphasis on sauce, Use All Five applied a unique illustration of the Chicken Guy! for all twenty two flavors of sauce. This ranged from one of Guy's favorites – Donkey Sauce – to the spicy devil-like flavor of Peri Peri, to the Miami Vice swag of Cuban Lime Mojo. Designing a new styled Chicken Guy! for each sauce helped communicate both the breadth of inspirations and the goodhearted nature of the brand and its namesake.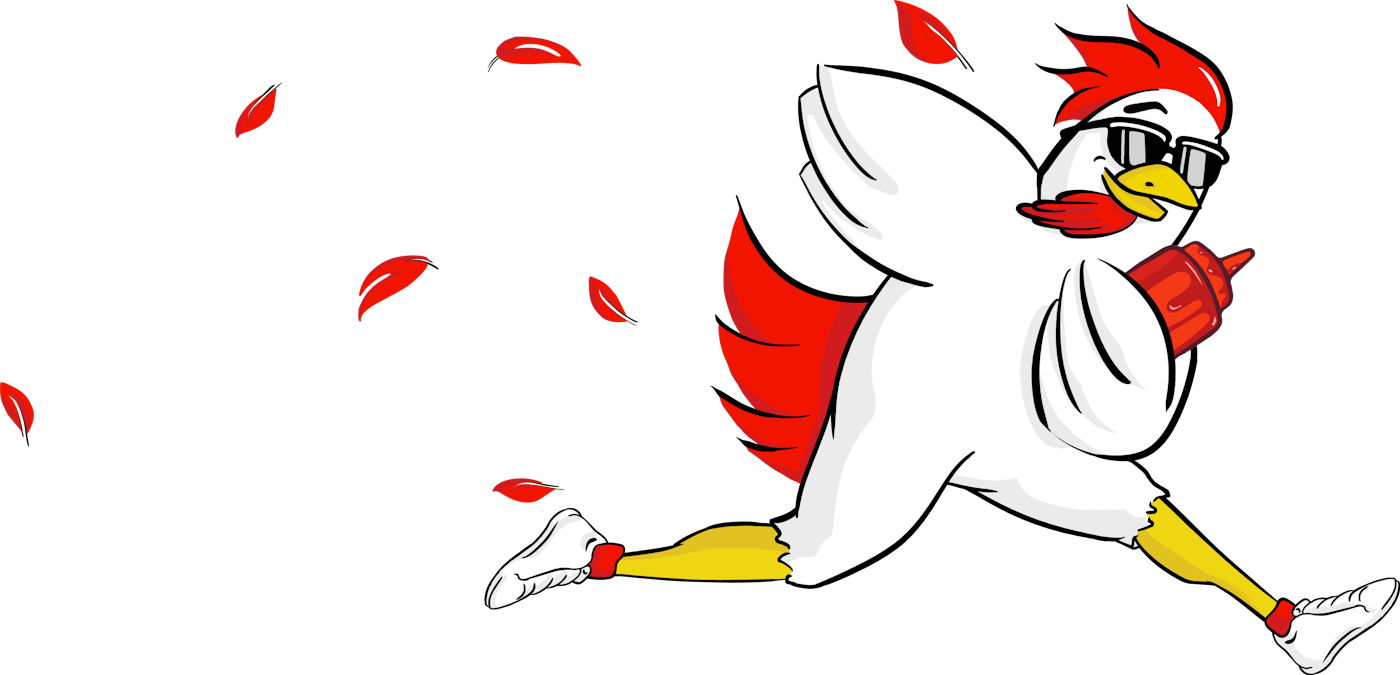 The Result
With the restaurant expanding beyond its initial location at the Walt Disney World Resort in Lake Buena Vista, Florida, we look forward to watching the brand identity grow. With Sharp Type's signature typeface Sharp Grotesk, Use All Five designed the Chicken Guy! brand with a palette of unique weights ranging from super condensed to more extended cuts, making the brand identity recognizable and appropriate in a multitude of locations and use-cases as the restaurant spreads to other cities and states.