If you're here to figure out whether Harley Quinn has finally stopped trending, the answer is somehow still… no.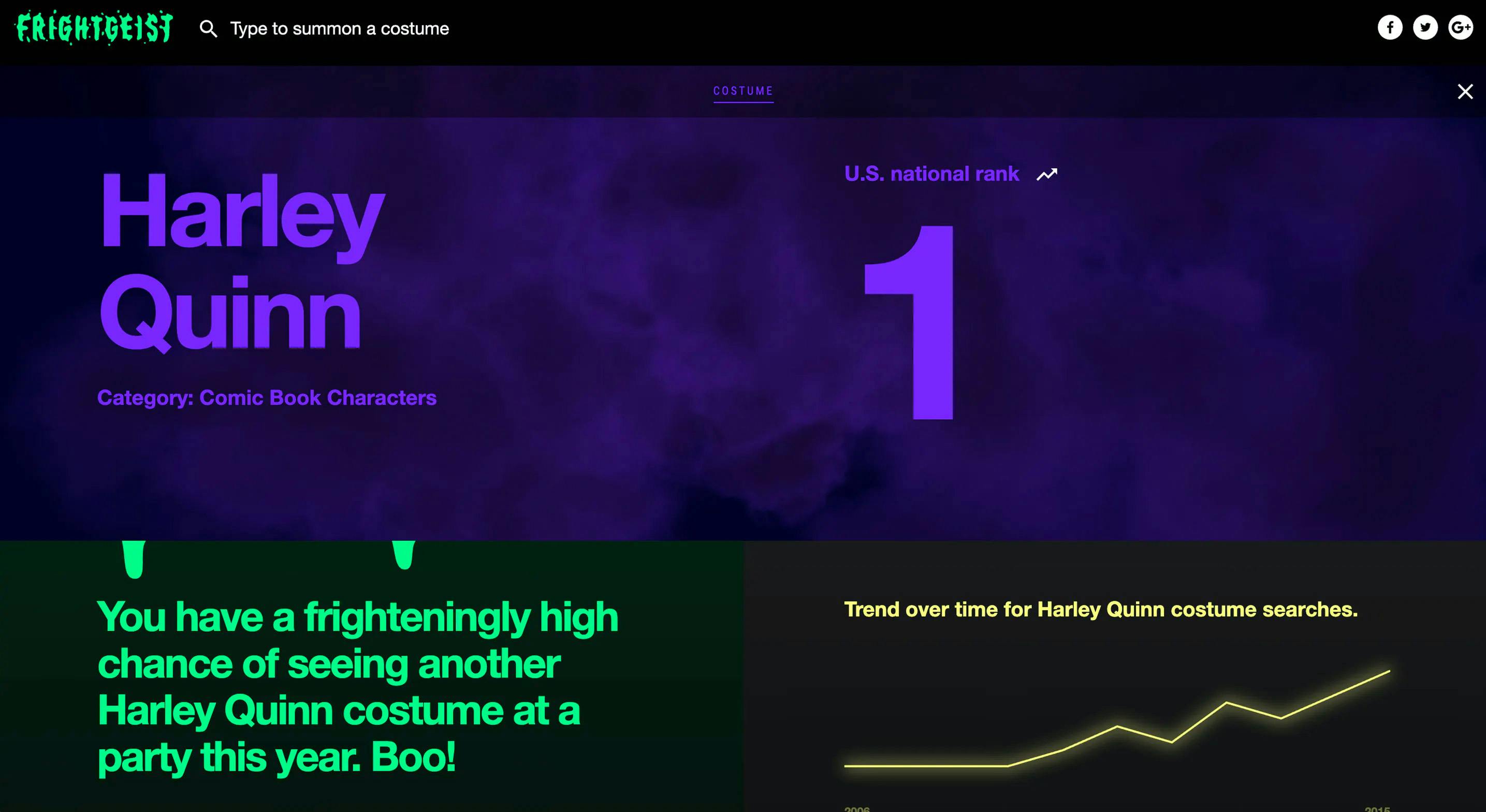 Seven years ago, the team at Google Creative Lab approached us looking to collaborate on an incredibly fun way to showcase what Google Trends was capable of. Following the first year, Creative Lab ceded Frightgeist to the Google Trends team, and this week marks the launch of our 7th immersive, nationwide Halloween trend tracker. It's been a hell of a time.
From appearances on Jimmy Kimmel Live, the Google.com homepage and many, many news outlets nationwide, to trending costumes through the years, Frightgeist has become an annual milemarker and an endless source of entertainment for us and for others.
Each year, we arrive at a theme, and then we run wild tinkering and exploring new ways to display the year's Halloween trends. From start to finish, the design and build process generally takes under a month, making it a rapidfire sprint. In year 1 the focus was the interactive mapping feature where users could plug in their zip code and see a real-time trending list of the costumes that trick-or-treaters (and adults, if we're being honest) were planning to don on the 31st.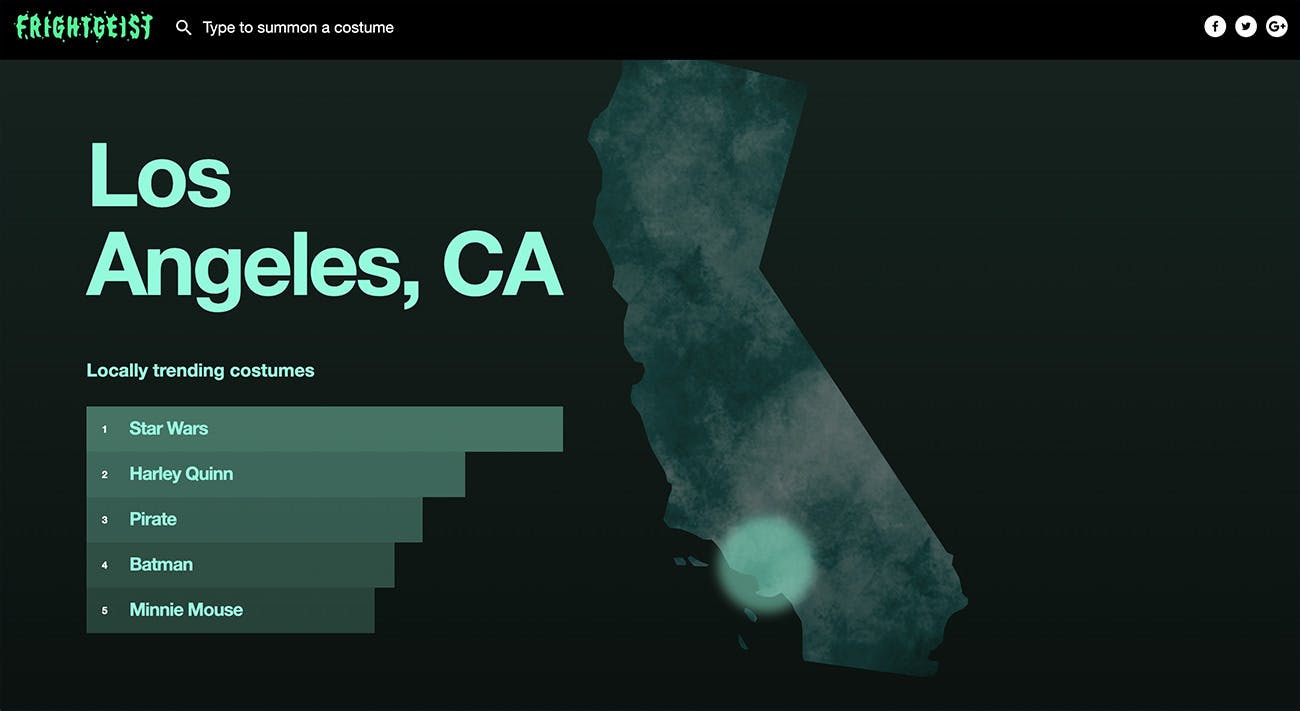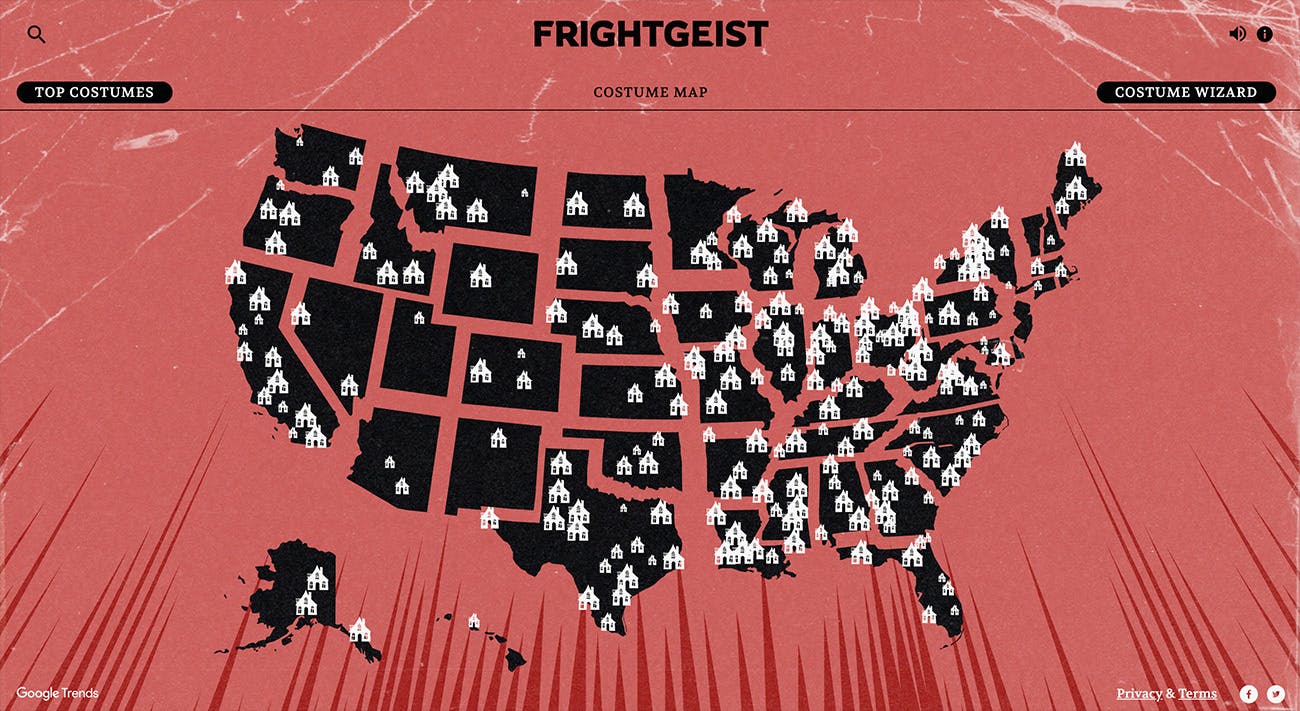 After the first launch, we pivoted to focus on the national trending costumes list – sourced using hyperlocal Google search data – and allowed users to drill-down to avoid data sets that were too small, improving the overall experience.
Over the years it's been a source of joy for the entire Use All Five team to watch how the site evolves, attaches to trending cultural topics and gains national exposure. Helping kids (and, again, adults [we know you dress up too]) choose a last-minute costume or imagine how all the other Harley Quinn's styled their looks has been a real treat.
It's the type of project that really lets us test how quickly design and dev can interact to create something breezy, low-key and culturally impactful, and we hope the collaboration never ends.
Take a look at all of the hilarious and beautiful themed homepages we've made together through the years.
Hope you all have a spooky Halloween. Here's a special collaborative Use All Five Samhain mix to get you in the mood.