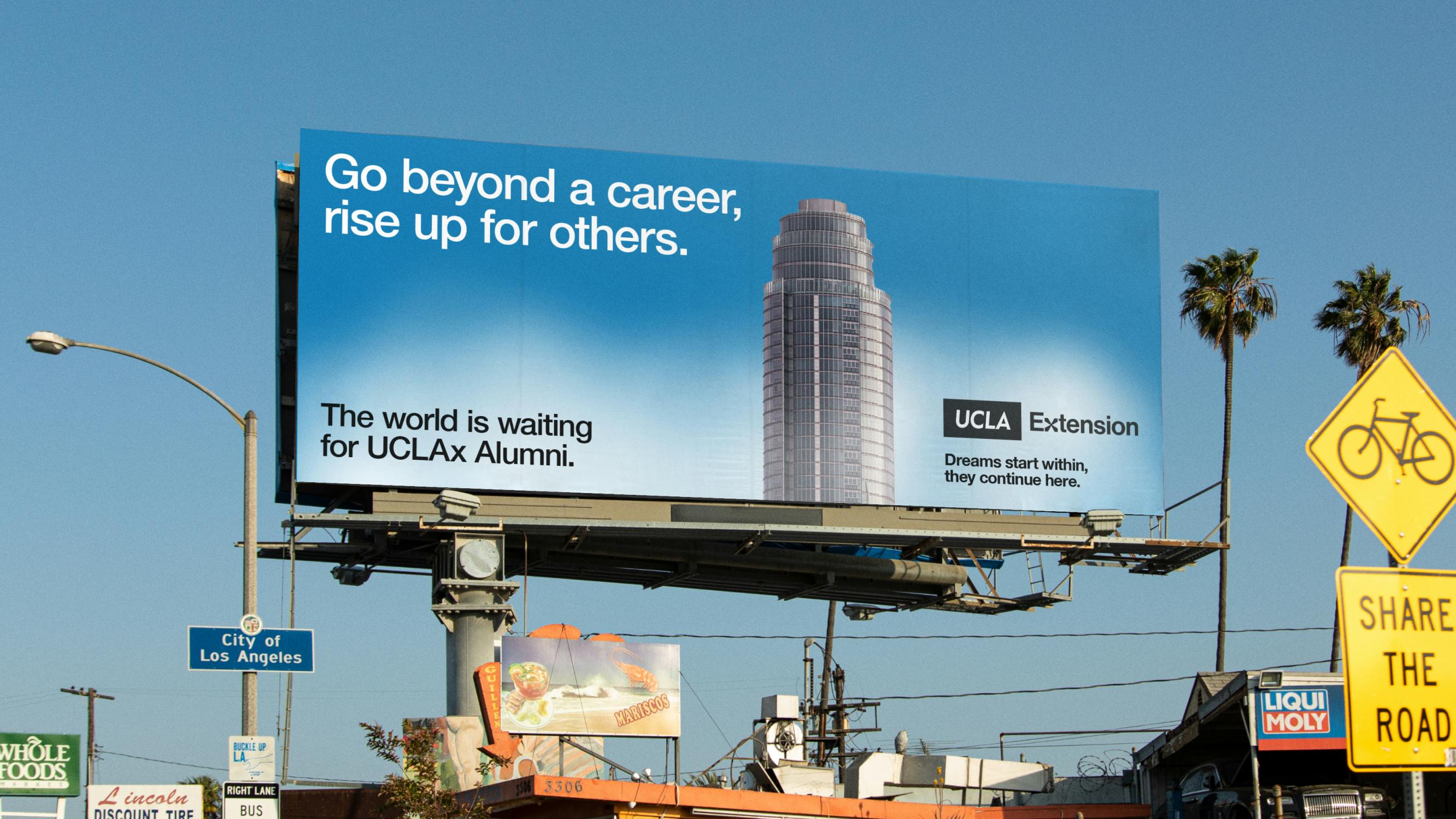 OOH Campaign for UCLA Extension—Strategy, Positioning, Branding and Campaign Execution by Use All Five and Silk
From our earliest days, universities, education advocacy groups, arts and literacy foundations and more have been key clients for Use All Five. Many of us have parents or partners who are educators, and a handful of us are currently educators in our own right, moonlighting to teach design, marketing or development to the next generation of digital makers. Education and access matters so much to us that we've spent the past few years preparing and launching our own mentorship program, High5.
We value all avenues and means to education and personal growth, not simply the traditional path, though universities are our bread and butter. Recent collaborations with continuing education and professional development clients like Grow with Google and UCLA Extension have expanded our POV on the importance of education in the modern landscape, as has our work with education equity groups and charter schools.
Education in all its forms, modes and means is something that we see as vital, and as a liberty that should be enjoyed by all. We love making the endless potential of education engaging to users.
Over the years, regular work for a number of departments and schools at UCLA has bloomed into a sterling reputation as a partner for universities. In our 16 years, we've proudly partnered with UCLA, USC, Temple, to engineer and realize digital experiences, marketing videos, websites, campaigns and components of hugely visible on-campus experiences.
Understanding the complexities of universities and the intricacies of Non-Profits in the education space has become a passion of ours. When it comes to these clients, special attention is paid to foundational strategy, including interviews, workshops and visioning exercises, and our copywriting expertise generally plays heavily into our success, as well. 
Broad stakeholder bases and far-ranging KPIs tend to be common, so we work tirelessly in collaboration with clients to formulate smart strategies that guarantee all voices are heard.
When it comes to university and continuing education partners, we know there will be organizational challenges. It's how we turn those challenges into opportunities that sets us apart.
We often begin by mapping user journeys and the full ecosystem of touchpoints to ensure that we're making something delightful and usable from a UI and UX standpoint. Together with our clients, we dive deep into the needs of every audience to ensure that we're fusing what users see on the front end with a backend that streamlines life for educators, who are also a primary user for any and all education websites and experiences.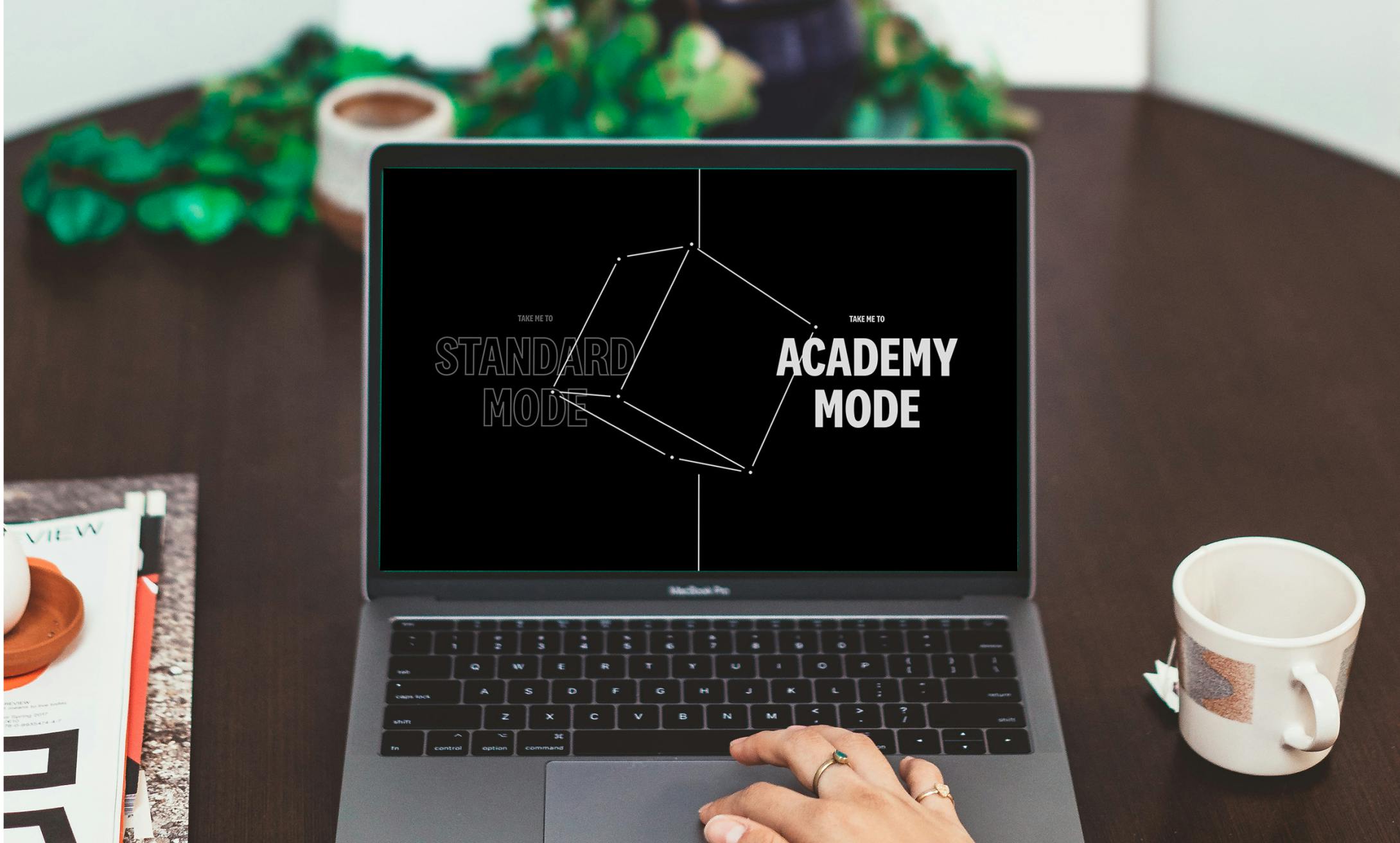 Our Strategy, Web Design and Development Work for USC's Iovine & Young Academy
In digital, having tech and design experts on university websites from the start gives us the confidence to explore the user experience both strategically and creatively with their KPIs in mind, knowing that our plan is rooted in research. And since our university clients tend to come to us in need of major design overhauls that still fit within rigid parent-brand guidelines, early involvement from senior design leaders is critical, too.
The same approach is applied to how strategy impacts campaigns and activations, which are another strong suit of ours. Media strategy works best when it's built on top of our own audience strategy and research, so we often conduct focus groups and user interviews before devising OOH and digital campaigns for our education clients.
Special attention is paid to foundational strategy, including interviews, workshops and visioning exercises, and our copywriting expertise generally plays heavily into our success.
Education clients all require different tech stacks to hit their goals, and this can be dependent on department, category or status as a non-profit. For instance, a continuing education client in the tech space will view the interactivity of curriculum as paramount, where the School of Education at a prominent Undergrad school may place more emphasis on ease of enrollment and scheduling. 
Knowing these intricacies allows us to begin our tech investigation from an informed place, leading to decisions on the perfect tech stack for each client.
Currently, our preferred stack includes Next.js for code, Prismic as CMS, Vercel for hosting, and most importantly a custom AWS search engine. Database and search determine so much of the end-user's experience, and when the website is educational, containing large amounts of curriculum info and research, the search functionality has to be incredibly useful and seamless.
Our Strategy, Web Design and Development Work for UCLA's School of Education and Information Studies
This strong strategic alignment and the deep link between our strategy, design and development departments gives inspiration and clarity to our entire team. Whether in digital, branding or campaign work, this rapport helps Use All Five express the perfect framework for all kinds of universities, continuing education platforms, online learning startups, education advocacy groups and non-profits. When client and agency meet and align across every step, better work comes of it.
Do you work for a university or institution that pursues new knowledge and makes education a possibility for all?

Let's get together and talk about the future.