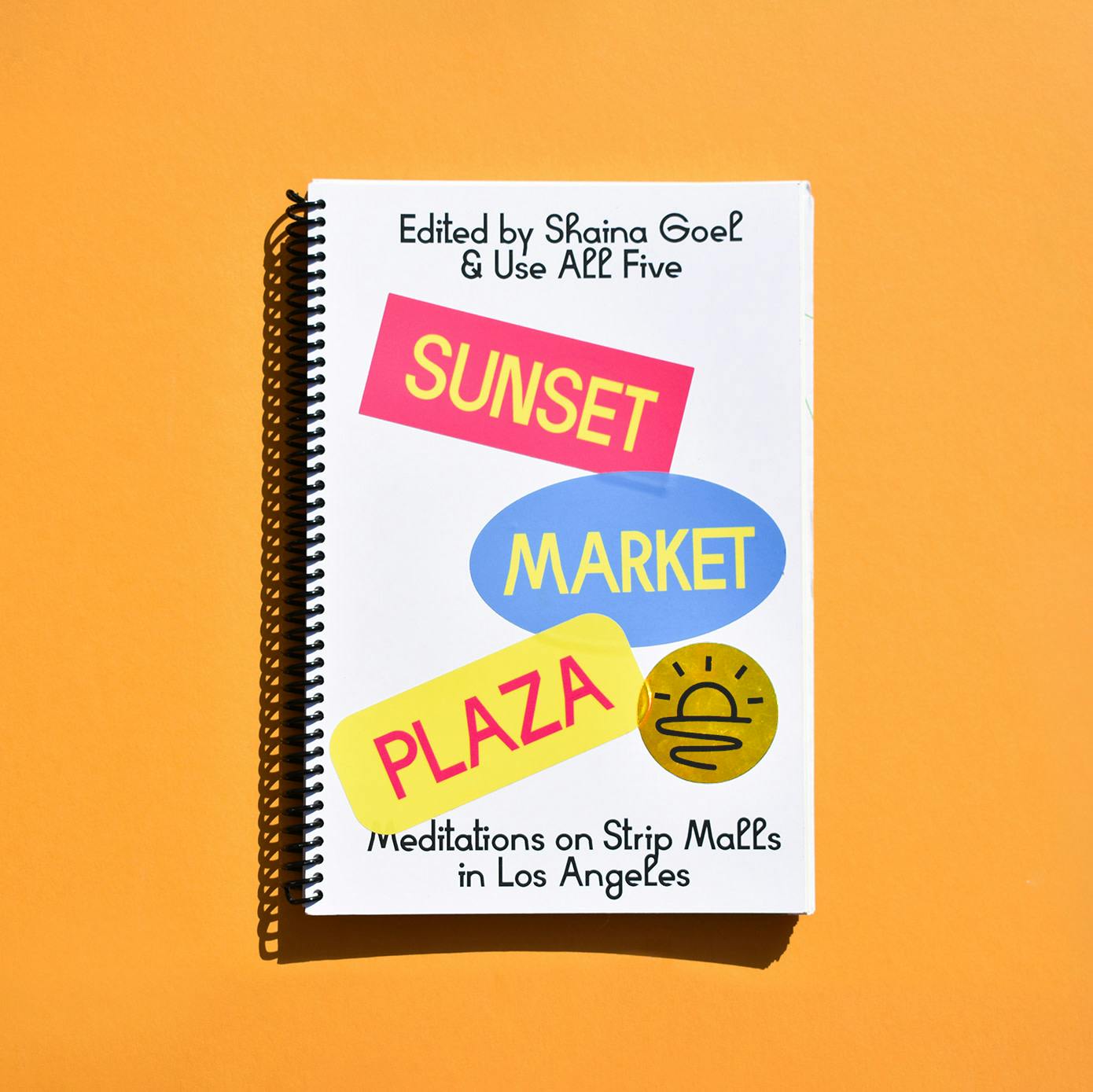 This spring, Use All Five is releasing its first self-published book: Sunset Market Plaza: Meditations on Strip Malls in Los Angeles. The book is now available for purchase. Learn more about this project below.
Strip-malls are synonymous with the landscape of Los Angeles. From Boyle Heights to Marina del Rey, the humble hustle of these businesses gives life to the city. The strip-mall's ubiquity is hard to overstate—they are easily spotted in any neighborhood. They are a constant backdrop for any LA resident, which is why they're also so heavily featured in LA-based films. In Sean Baker's Tangerine, released in 2015, protagonist Sin-Dee roams the streets of Hollywood in search of her boyfriend. Some of her most heightened scenes take place at a strip-mall intersecting Highland Ave and Santa Monica Blvd. Likewise, the Coen brother's 1998 classic, The Big Lebowski, centers on another Hollywood strip-mall.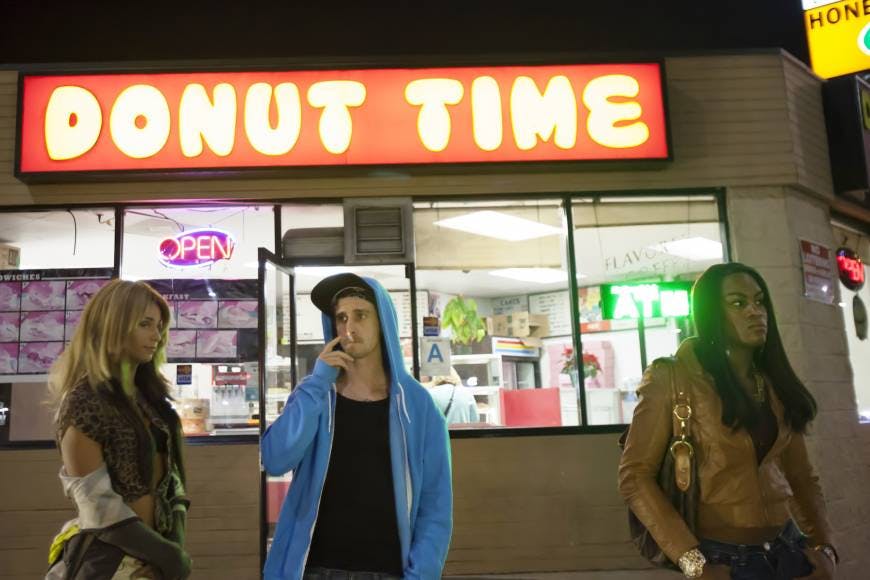 Still from Tangerine (2015), directed by Sean Baker. Donut Time has since closed, following the owner's retirement. This strip-mall is featured on page 102 of Sunset Market Plaza.
LA's strip-malls, however, are by no means a static constant. Los Angeles is a city of constant change, and businesses come and go. The strip-malls featured in these films are no different. Donut Time, a location for many scenes in Tangerine, closed a year after the film's release. Store owner Seang Mak retired, and the shop was purchased by Danny Trejo (who reopened the business as Trejo's Coffee & Donuts). The strip-mall in The Big Lebowski has also changed, shedding its "seedy" image as depicted in the film with the addition of a fine art gallery.
These changes, in the experience of today's LA residents, move at an even more accelerated pace. Many longtime residents face the threat of displacement. Immigrant communities are especially vulnerable to these shifts. In the midst of these challenges, it feels especially important—even in this small way—to reflect and conserve an image of the city as it is today.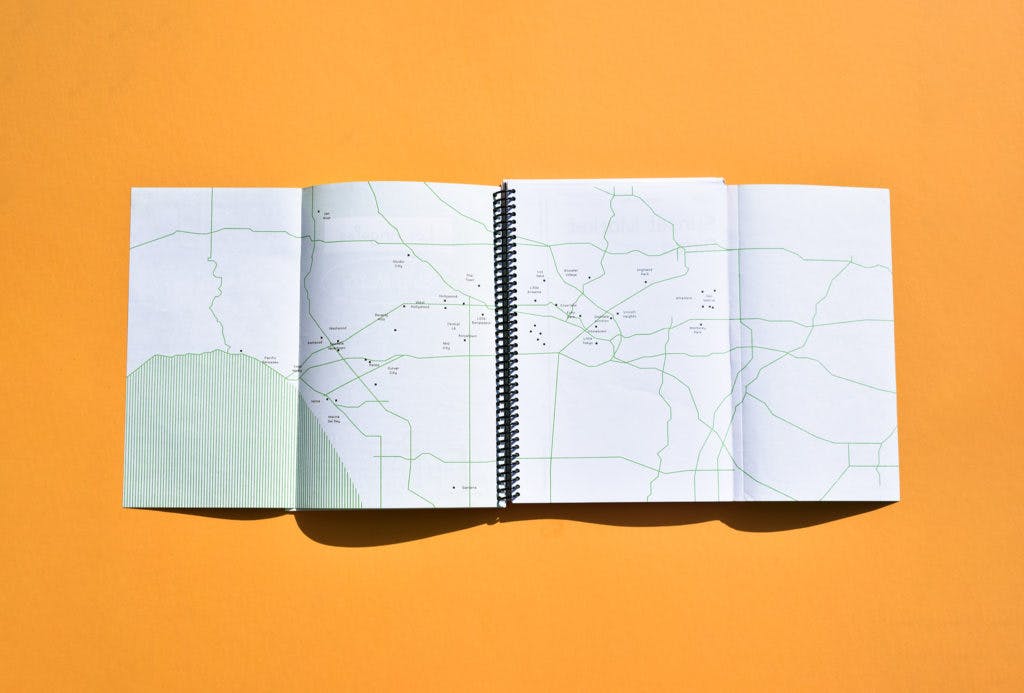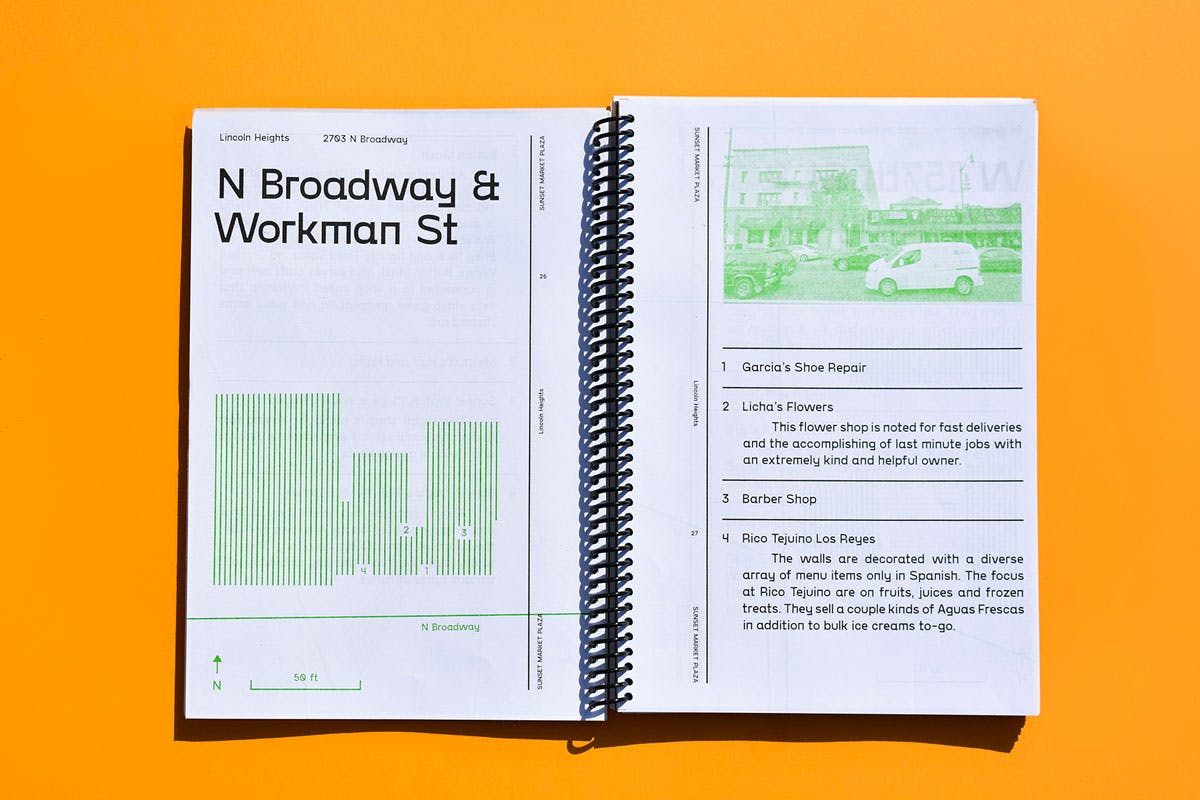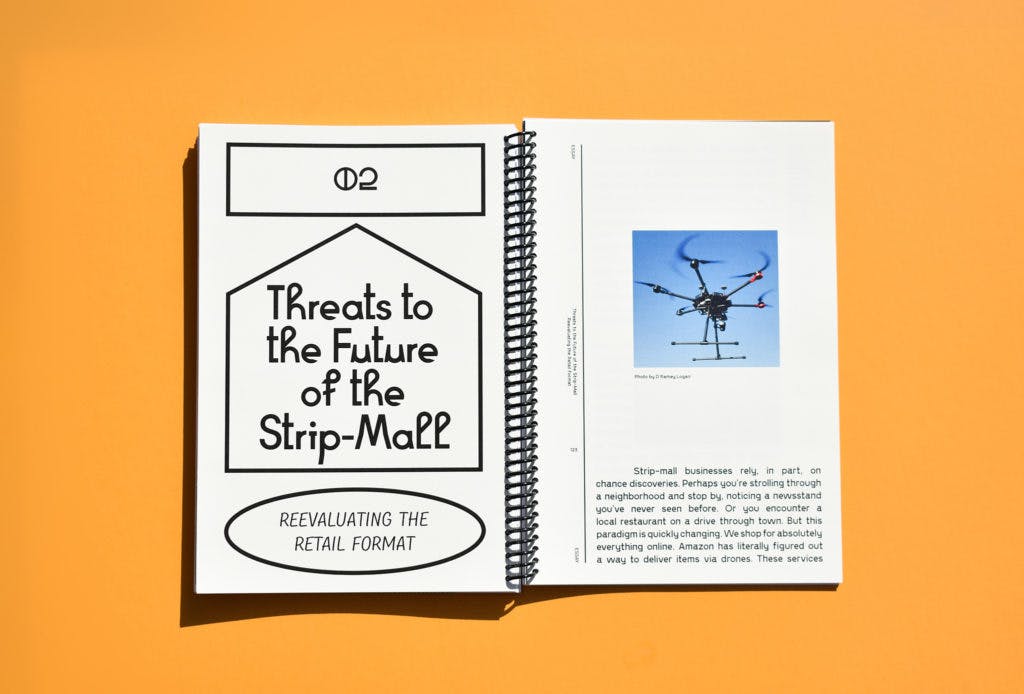 Sunset Market Plaza celebrates the cultural impact of strip-malls in Los Angeles. Self-published by Use All Five, the book features a directory of some of our favorite strip-malls, along with material about the strip-mall's history, and visual reimaginings of the strip-mall in our future. We worked closely with Shaina Goel to produce many of the book's texts, including descriptions of strip-mall businesses and short essays. Artist Catherine Opie contributed a selection of her Mini-Malls photo series. Urban planning scholar Jonathan Crisman interviewed influential strip-mall developer Sam Bachner. Together they discuss the historical precedents that shaped the strip-mall's present day ubiquity.
The book is printed locally in Los Angeles County by Chinatown-based Press Friends and Pasadena-based Typecraft. Vibrant green-and-black risograph spreads combine with digitally printed sections (mixing glossy and uncoated papers) in the 165-page spiral-bound book. Each cover is unique, with hand-placed compositions of stickers in varying color palettes, arranged to construct the book's title. We selected this eclectic combination of inks and papers as tribute to the strip-mall's wonderfully awkward, idiosyncratic appearance.
Buy Now Sunset market Plaza: Meditations on Strip Malls in Los Angeles here.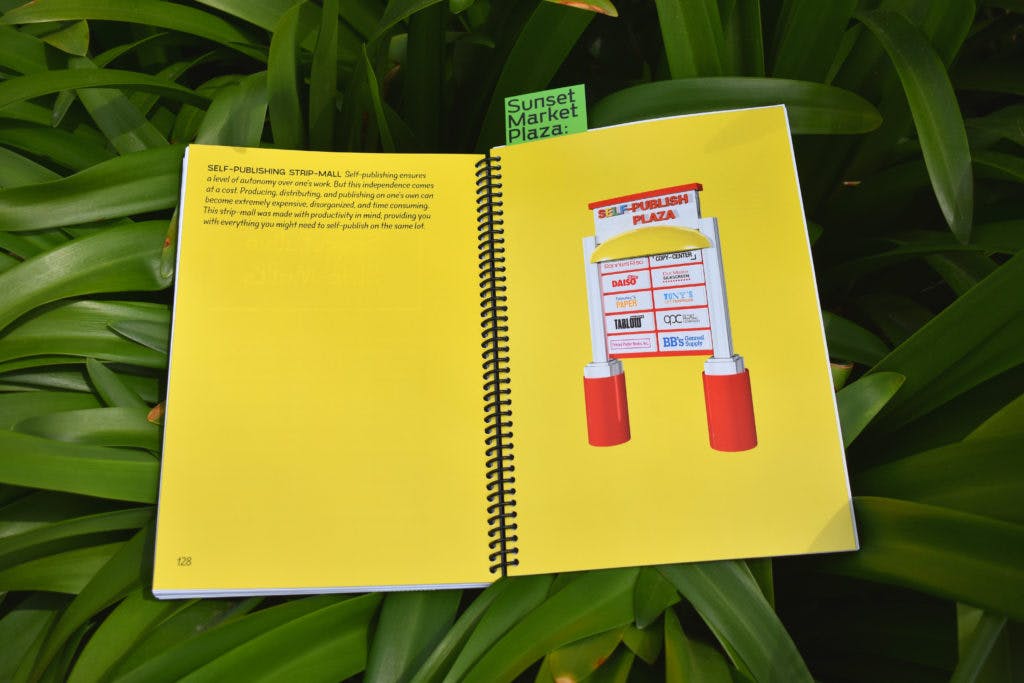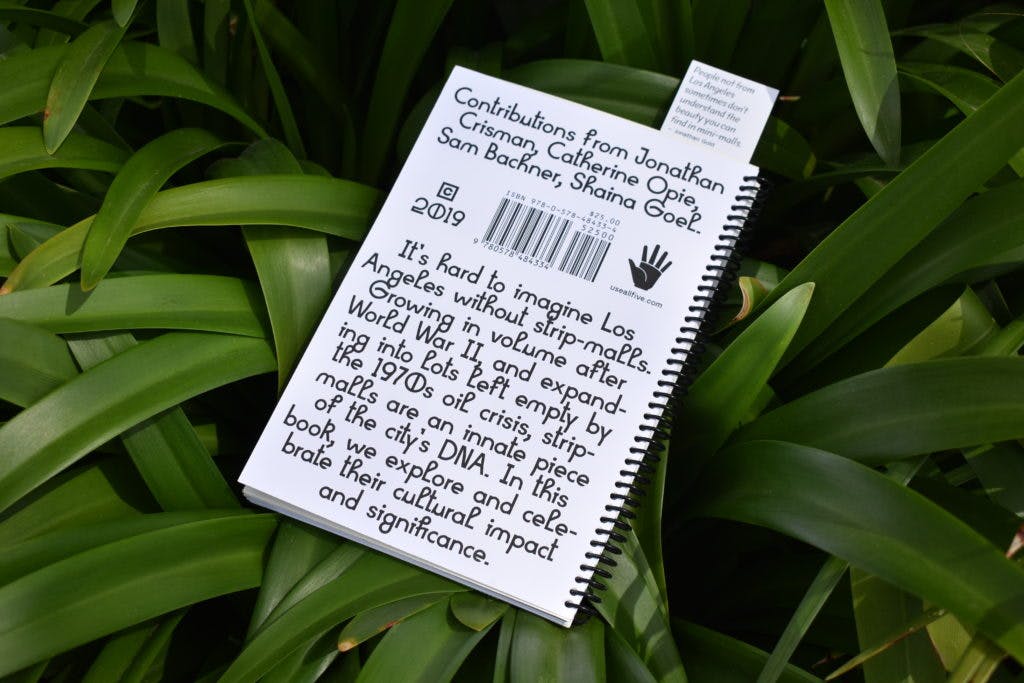 Special thanks to everyone who contributed to this project: Shaina Goel, Christine Jackson, Troy Curtis Kreiner, Ben Kasum, Yuji Sakuma, Typecraft, Press Friends, Catherine Opie, Regen Projects, Jonathan Crisman, Sam Bachner, Eric Hu, Nina Sarnelle, Lee Kawasaki, Lindsey Chan, Mike Curtis, Will Galperin, Harris Bauer, Griffin Snyder, Levi Brooks, Jason Farrell, Chris Black, Mindy Nguyen, Kate Fabrizio, Robin Park, Yuri Sakakibara.
Dedicated to Jonathan Gold